Religious Freedom in Uzbekistan: Still Space for Reform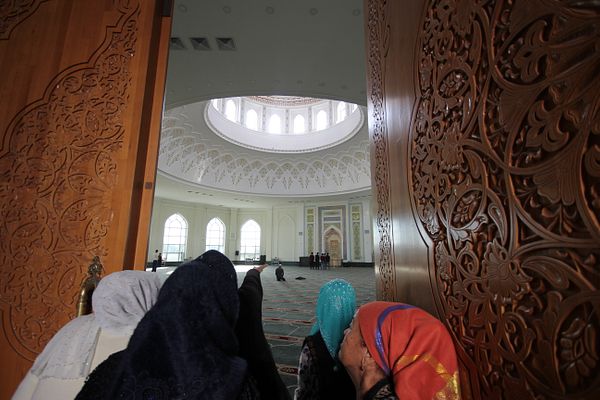 In 2017, after a dozen years listed as a "Country of Particular Concern" with regard to violations of religious freedom by the U.S. State Department, Uzbekistan was dropped to a lower category of concern, the Special Watch List. Three years later, in 2020, the U.S. Ambassador at Large for International Religious Freedom said in 2020 that Uzbekistan was no longer engaged in "severe violations of religious freedom" and the country was removed from the Special Watch List too. It was an assessment the U.S. Commission on International Religious Freedom (USCIRF) – an independent, bipartisan commission created to monitor freedom of religion around the world and make policy recommendations to the government – did not agree with.
In a recent report, USCIRF documents ongoing violations of religious freedoms in Uzbekistan that, despite acknowledged progress in some areas, continue to constitute "severe violations." In the following interview, USCIRF Chair Nury Turkel discusses Uzbekistan's progress, and remaining problems, regarding religious freedom – and why it matters – with The Diplomat's Catherine Putz.
Uzbekistan was on the CPC list for a dozen years up to 2017. How significant was the change in administration in Uzbekistan – the death of Islam Karimov and ascension of his former prime minister, Shavkat Mirziyoyev, to the presidency – in influencing how its government engaged on the subject of religious freedoms?
President Shavkat Mirziyoyev's administration has demonstrated an unprecedented interest in engaging with the United States government on religious freedom and introducing related reforms that we had not previously seen in Uzbekistan under the leadership of Islam Karimov, who maintained a notoriously poor record on this issue. It was a welcome change to see this current government make substantive improvements and openly discuss ways to further advance this right. Certainly, that shift was motivated, at least in part, by a desire to no longer be designated a "Country of Particular Concern" by the State Department year after year, especially as the country was making efforts to improve its international image.
Diplomat Brief Weekly Newsletter N Get briefed on the story of the week, and developing stories to watch across the Asia-Pacific. Get the Newsletter
What kinds of reforms or changes did Uzbekistan make that inspired its designation on the less-severe Special Watch List (SWL) in 2018 and its ultimate removal from the SWL in 2020?
Enjoying this article? Click here to subscribe for full access. Just $5 a month.
Initial reforms during this period were promising. The government removed an estimated 16,000 names from a so-called blacklist of potential "religious extremists," began to register some non-Muslim religious minority communities, and released from prison several individuals who had been sentenced on religiously-motivated charges. In 2017, Uzbekistan permitted the U.N. Special Rapporteur on freedom of religion or belief to visit the country, and in 2018 the parliament adopted a "road map" that aimed to further improve religious freedom conditions by incorporating many of the U.N. Special Rapporteur's recommendations. As part of that road map, the government committed to revising the country's restrictive 1998 religion law.
The then-U.S. Ambassador at Large for International Religious Freedom said in 2020 that Uzbekistan was no longer engaged in "severe violations of religious freedom." Does USCIRF agree with that assessment? How would you characterize religious freedom conditions in Uzbekistan at present?
USCIRF does not agree with this assessment, as it has found that Uzbekistan still engages in "severe violations of religious freedom." For this reason, USCIRF continues to recommend that the State Department put Uzbekistan back on its Special Watch List. USCIRF included this recommendation in its 2022 Annual Report, which it released in April.
In general, USCIRF has assessed religious freedom conditions in Uzbekistan as poor. The government continues to imprison more than 2,000 Muslim political prisoners related to their peaceful religious activities and has detained or arrested additional individuals simply for possessing unauthorized or "illegal" religious literature. Over the last year or so, the government has limited the ability of its citizens to pursue a religious education abroad and has fined journalists for reporting on religious topics without government permission. Although the government made much of its efforts to rewrite its problematic religion law, that process resulted in an underwhelmingly updated law that in most ways preserved the state's intrusive role in controlling all aspects of religious life.
Uzbekistan is a Muslim-majority country that, in the words of its ambassador to the U.S. in 2018, sees itself as a model secular, Muslim-majority state. But the government plays a central role in determining what Islamic practices are acceptable. Do you think this heavy hand in the practice of Islam in the country runs counter to the state's proclaimed secularism?
It is problematic when a government makes determinations about what is correct or appropriate religious practice. Uzbekistan, despite identifying as a secular state, is heavily involved in regulating, controlling, and defining Islamic practices – for example, telling women and girls what form and even color of headscarf is acceptable. According to international standards, people should be free to believe and to manifest those beliefs independent of the state.
Broadly speaking, it seems Uzbekistan's reform progress has slowed since the pre-pandemic years. Is this true of progress on religious freedom issues too? What kinds of reforms, in the realm of religious freedoms, should U.S. authorities encourage Uzbekistan to pursue?
It appears that Uzbekistan's efforts to improve the space for religious freedom have slowed, particularly since it adopted a revised religion law in 2021. We continue to recommend that the U.S. government engage counterparts in Uzbekistan on relevant legislative reforms to codify robust religious freedom protections into law. Although it is unlikely that Uzbekistan will again consider amending its religion law in the near term, the U.S. government should still encourage reform of its criminal code and law on extremism to comply with international human rights standards. U.S. government officials should also continue to press Uzbekistan to release the numerous remaining religious prisoners of conscience from prison – some of whose names have been documented in recent USCIRF reporting.
Looking at the big picture: Why does it matter that Uzbekistan makes continued progress toward greater religious freedoms? What is at stake should progress stall here?
Freedom of religion or belief is a fundamental human right that Uzbekistan has committed to protect and promote – not for the sake of other countries or the international community, but for the benefit and wellbeing of its own people. Uzbekistan's willingness to guarantee this right for its own citizens will likewise represent a strong indicator of its level of commitment to all human rights, including freedom of expression and freedom of association, among others. A government that stifles religious freedom and other human rights not only violates the rights of its citizens, it also runs the risk of contributing to the very security threats – like violent extremism – that Uzbekistan seeks to contain. In contrast, a government that embraces real protections for human rights, including freedom of religion or belief, strengthens its society and paves a path for increased social and economic prosperity.