Keeping Muharram Processions Alive in Kashmir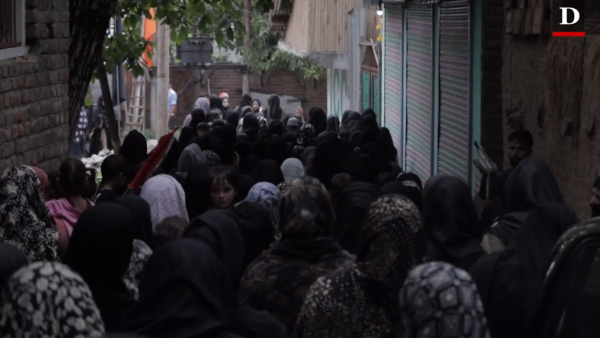 In Kashmir, some of the main Muharram processions have been banned since 1989, but Muslims prepare for the ritual every year nonetheless.
On August 9, Muslims around the world marked the anniversary of the Battle of Karbala, which resulted in the death of Hussain ibn Ali, the grandson of the Prophet Muhammad and son of the fourth caliph, Ali ibn Abi Talib.
The day of Ashura, the 10th day of the month of Muharram, is mourned globally by millions of Muslims, both Sunni and Shia, to honor the heroic stand of the prophet's grandson Hussain. However, it is especially important to Shia Muslims, as the battle – and Hussain's death – has deep religious significance to the sect. In the month of Muharram, Shias around the world hold large processions of mourners beating their chests while reciting elegies and chanting slogans to mark the martyrdom of Imam Hussain.
However, in Kashmir, some of the main Muharram processions have been banned since 1989. Every year, the government issues an order banning certain Muharram processions, citing security concerns.
Kashmiri Muslims have long complained that the government is curbing their religious freedom on the pretext of maintaining law and order, even while promoting an annual Hindu pilgrimage to the Amarnath Shrine in a Himalayan cave that draws hundreds of thousands of visitors.
Diplomat Brief Weekly Newsletter N Get briefed on the story of the week, and developing stories to watch across the Asia-Pacific. Get the Newsletter
Many people of this community believe that the wedge between Shias and Sunnis fuels the government's plan to exercise greater control over the people of Kashmir. They feel that the authorities are the ones behind Shia-Sunni tensions.
Enjoying this article? Click here to subscribe for full access. Just $5 a month.
Kashmiri Shias say they are continuously portrayed by the Indian authorities as supporters of the state – but many say they are not. They have gone through the same suffering as their Sunni brethren. Muslims in Indian-administered Kashmir, both Shia and Sunni, feel that they are being hindered from exercising their religious rights.
This video explores preparations for the Muharram procession in Srinagar, Indian-administered Kashmir, as local Muslims express their frustrations with government restrictions on the religious observance.