Undelivered Promises: Life in Kashmir After Article 370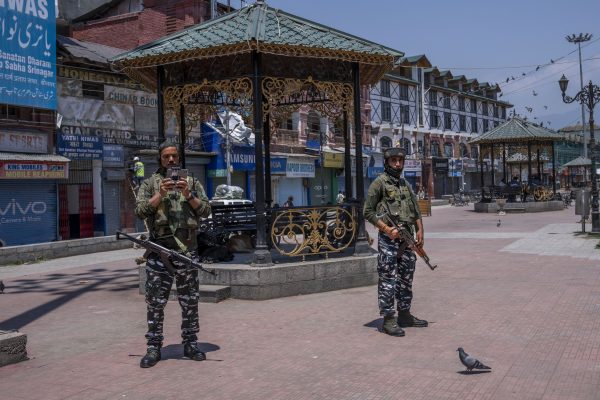 Three years after the Modi government struck down Kashmir's special status, the Valley has only grown more volatile.
Paramilitary soldiers keep vigil with the help of a drone during shutdown in central Srinagar, Indian controlled Kashmir, Wednesday, May 25, 2022.
On August 5, 2019, the Indian government changed the country's constitution to unilaterally revoke Jammu and Kashmir's autonomy and declared that Kashmir would be directly administered by the Indian central government. As a result, Kashmir was deliberately rendered far less autonomous than other states within the Indian federation. Muslim-majority Kashmir's autonomy was scrapped; there are now essentially no locally owned political institutions in the valley.
The move reiterated the ascendance of an aggressive Hindutva movement, led by the Bharatiya Janata Party (BJP). India's ruling party, the BJP is closely associated with the Rashtriya Swayamsevak Sangh (RSS), a group of organizations that advocate for a right-wing Hindu political agenda in India.
After Article 370, the part of the Indian Constitution that guaranteed Kashmir's special status, was rescinded, Indian military troops scurried across the valley. The Indian government instituted months of communication blackouts and curfews. India's leaders reasoned that these measures were important to deconstruct a system that they claimed bred radicalization, militancy, corruption, and underdevelopment.
Recalling the day when Article 370 was suddenly revoked, Abdul Aziz, a 45-year-old taxi driver, told The Diplomat he had no idea "why there was a curfew. All the cable channels, phone lines, and internet were cut off. We had no food supplies and no income for three months."
Diplomat Brief Weekly Newsletter N Get briefed on the story of the week, and developing stories to watch across the Asia-Pacific. Get the Newsletter
The mix of political and economic grievances is impacting the country's economic and political stability, as well as human rights. Kashmiri Muslims have largely been left behind and marginalized by the Indian state. It is clear that the security in the valley is deteriorating for Kashmiris who continue to live in fear under the shadow of occupation, which has fueled further alienation and resentment.
Three years after the much-hyped abrogation of Kashmir's special status, there is an insurgency simmering, economic activity is at halt, and the political agenda remains contentious. This all suggests that Kashmir has not become any less volatile.