Albuquerque police to charge suspect in killing of US Muslim men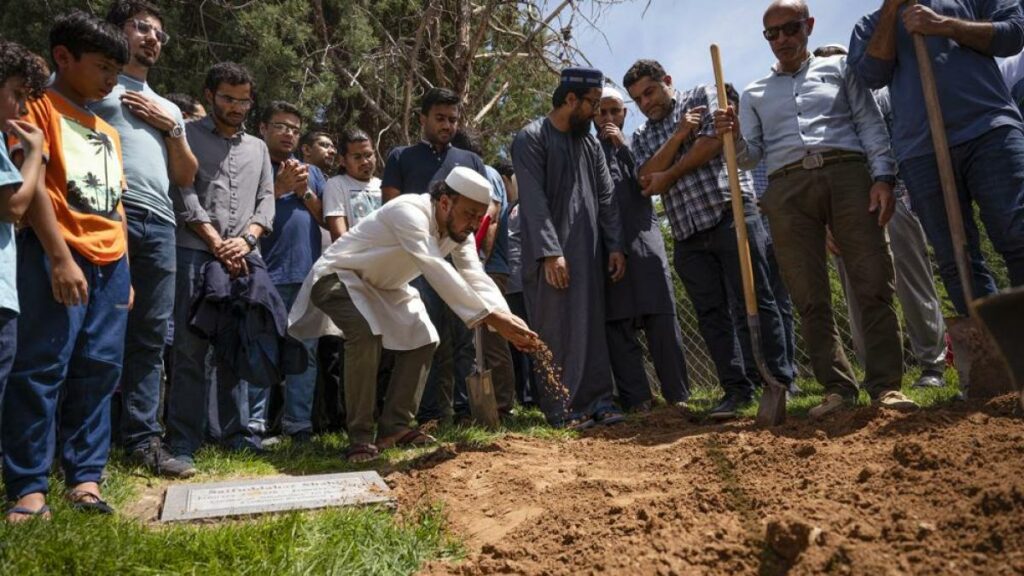 The Albuquerque Police Department has arrested the suspected attacker in the killing of two Muslim men in New Mexico, identifying him as 51-year-old Muhammad Syed.
Police had announced Syed's arrest on Tuesday after the killings, which were denounced by President Joe Biden, sparked nationwide alarm amongst Muslim communities in the past week.
Three Muslim men from the same mosque – aged between 25 and 41 – were fatally shot in the Albuquerque area during the past month. A fourth Muslim man was also killed last November in a case that police believe may be linked to the recent shootings.
Police plan to charge Syed in two of those slayings: that of Aftab Hussein, 41, and Muhammed Afzaal Hussain, 27, killed on July 26 and August 1, respectively. Both men were from Pakistan. Albuquerque Police Chief Harold Medina told reporters at a news conference on Tuesday that law enforcement authorities are working with prosecutors to charge Syed with the other two murders.
Mohammad Ahmadi, 62, a native of Afghanistan, was the first known victim, killed on November 7, 2021.
Nayeem Hussain, 25, from Pakistan, was killed Friday night, hours after attending the burial of the two men slain in July and August.
The New York Times cited a local Muslim leader as saying that authorities told him that the alleged killer targeted the victims "because he was angry over his daughter marrying a Shiite Muslim". All four slain men were Shia Muslims.
Police officials on Tuesday said they were still investigating the motives but did not rule out hate crime charges against the suspect.
For its part, the Council on American Islamic Relations (CAIR) welcomed the arrest and condemned the "anti-Shia hatred that may have motivated the killings".
"Although we are waiting to learn more about these crimes, we are disturbed by early indications that the alleged killer may have been targeting particular members of the Shia community," CAIR Executive Director Nihad Awad said in a statement.
"If this is true, it is completely unacceptable, and we encourage law enforcement to file any appropriate hate crime charges against the suspect."
Other Muslim-American activists urged unity after the arrest. "We will not be divided. Sending love and solidarity to our Shia family," Palestinian-American organiser Linda Sarsour wrote on Twitter.
Debbie Almontaser, a prominent US Muslim advocate, also rejected the sectarianism that possibly motivated the suspect. "Zero tolerance for sectarian violence against Shia Muslims!" she wrote in a social media post.
"This crime made our community feel like it was under attack," Medina said. "We came together like we always do in the 'one Albuquerque' spirit, and we partnered with everybody to get results quickly."
On Sunday, local police released a photo of a car that they described as a "vehicle of interest in the shootings of 4 Muslim men", soliciting information from the public about it. Local law enforcement had set a $20,000 reward for information leading to the attacker.
Muslim-American organisations and activists had called for employing federal and local resources to apprehend the attacker, with CAIR urging the White House last week to take a "direct role in responding to this shooting spree".
On Sunday, Biden said he was "angered and saddened by the horrific killings", stressing that his administration "stands strongly with the Muslim community". Vice President Kamala Harris also denounced the killings.
Alhamdulillah, @ABQPOLICE arrested a suspect in connection with the shootings of 4 Muslim men in #Albuquerque. Although we are still learning more about the suspect, we are appalled by indications that he was hatefully targeting particular members of the #Shia community. 1/4 — CAIR National (@CAIRNational) August 9, 2022
On Tuesday, New Mexico Governor Michelle Lujan Grisham lauded law enforcement agents for collaborating with the local community to find and arrest the suspect.
"This is the kind of work – this collaboration – that yields real results. This is law enforcement and all partners at their best," she said.
"It is what the state and this community both deserve and should expect in any context. But also it's a place to really thank the public. Without those tips, without that information, we would not be in a situation where we're making this announcement."