Top Pakistani Taliban leader killed in Afghanistan; Shiites targeted in Kabul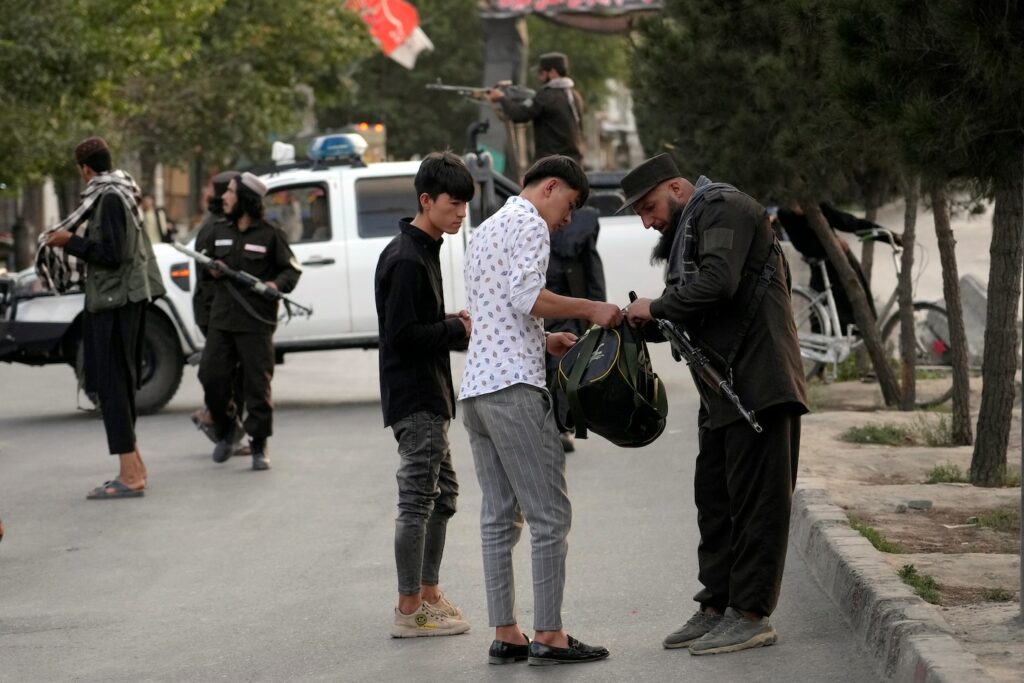 Placeholder while article actions load
KABUL — A top leader of the Pakistani Taliban militia was reported killed Sunday in southeastern Afghanistan, potentially dealing a serious blow to peace talks being negotiated between the extremist group and Pakistani officials with assistance from senior Taliban leaders in Afghanistan. Are you on Telegram? Subscribe to our channel for the latest updates on Russia's war in Ukraine. ArrowRight An aide to the Pakistani militia leader, known as Omar Khalid Khorasani, said in a tweet Monday morning that he died in a bomb blast in southeastern Afghanistan. "He is no more with us," said the aide, Ehsanullah Ehsan. "May Allah … give him the highest place in Jannah," or heaven.
The reported death of Khorasani followed months of talks that began shortly after Afghan Taliban forces took power in Kabul one year ago. Numerous delegations have met in Afghanistan since then to help end the years-long conflict between Pakistani forces and hard-line Pakistani militants.
There were conflicting reports Monday on the circumstances of Khorasani's death and the precise location in southeastern Afghanistan where it occurred.
Ehsan told The Washington Post that two other Pakistani Taliban leaders who were traveling with Khorasani, Mufti Hassan Swati and Hafiz Dawlat Khan, were killed in the same incident. In a brief online conversation via Telegram, he said all three were killed by an "IED blast," referring to an improvised explosive device or roadside bomb, but he did not specify where it happened or who was responsible. He said Khorasani was "leading the committee for peace negotiations."
In the capital, Kabul, Taliban authorities have been struggling to contain a rash of terrorist attacks on the Shiite Muslim community over the past week. The attacks, mostly claimed by Islamic State militants, have sown panic in the Shiite Muslim community as it observes a period of religious mourning for a revered figure: Imam Hussein, a grandson of the prophet Muhammad slain in battle in the 7th century.
Taliban officials had promised to protect the community's 10-day mourning tradition, which was due to culminate Monday with processions and funereal music, bringing tens of thousands of people into the streets. But after the third attack Saturday — a bombing in the heart of the Shiite community — officials virtually shut down the activities for fear of further violence.
On Monday morning, police cut off the area to all outside traffic and banned all local traffic. Roadside displays of brilliant religious flags and banners were taken down, and security forces in armored vehicles, some mounted with machine guns, continually patrolled the near-empty streets.
Taliban officials also cut off local cellphone signals across Kabul on Monday to prevent remote-controlled bombings. Two of the recent terrorist attacks involved bombs that were hidden in ordinary objects in separate crowded areas of the Shiite community and were detonated remotely.
"People here are very afraid now after what has happened, but still they have strong feelings that they must come out and honor Imam Hussein," said Habib Rezaie, 45, a travel agent. "He was a great hero for the world, not only for Islam. But I think in these circumstances, it would be better if people stay home and not express that love so extravagantly."
Among the few pedestrians who dared come out on the streets Monday were some female medical students who were supposed to report for an exam. They hurried nervously along the sidewalk, clutching papers and exam books, just two blocks from the site that was bombed Saturday.
"We are all scared. Our parents didn't want us to go out, and we thought the Taliban might not give us permission, but we have to take these exams. It's for our future," said one student, 23, who gave her name only as Salaina.
Taliban officials have been struggling for months to respond to the Shiite community's concerns about continuing attacks from the Islamic State, an extremist Sunni Muslim group that has repeatedly staged attacks in Kabul and other cities since the Taliban took power last August. In April, it bombed a large high school and a crowded shrine.
In an especially brazen attack Wednesday, the militants commandeered an apartment building and started shooting at a Taliban security patrol after reportedly taking some residents hostage. It took government forces nearly seven hours to quell the assault.
In attempting to prevent worse violence, Taliban authorities face an awkward balance between protecting local Shiites — a group they once persecuted — and allowing them the freedom they have long demanded to hold religious events. The Taliban forbade those same events when the Sunni Muslim group held power from 1996 to 2001.
Over two decades of U.S.-backed administrations, as the minority Shiite and ethnic Hazara populace gained influence and success, its commemoration of Imam Hussein, during a religious period called Muharram, grew from a small, modest event inside Shiite areas to an ambitious display of colorful banners and archways put up over streets across the entire capital.
"People are worried, 100 percent, and they fear we will see more chaos coming, but it is not right for the authorities to stop our celebration either," said Noor Mohammed, 55. "Imam Hussein is our champion. We know he would not want us to lose our lives, but people feel they must come out and show their feelings at any cost."
In addition to grappling with terrorist attacks from extremist groups in West Kabul, the Taliban regime has been reeling since a U.S. drone fired a missile on July 31 at a luxurious house in central Kabul, killing Ayman al-Zawahiri, the head of al-Qaeda since a U.S. raid killed Osama bin Laden in 2011. Taliban officials have denied they knew he was living there, and they have accused the United States of violating their 2020 peace agreement by attacking the house.
The death of Khorasani marks another setback for Taliban efforts to reduce conflict at home and in the region. In this case, the Taliban has been working with Pakistani officials for nearly a year to engineer a peace agreement with the Pakistani Taliban, after facing accusations from Pakistan that it was secretly supporting the group. The effort resulted in a month-long cease-fire in November, but the militants resumed attacks after that.
Haq Nawaz Khan in Peshawar, Pakistan, contributed to this report.
GiftOutline Gift Article