Who was Ayman al-Zawahiri? The al-Qaida leader who helped plot its deadliest attacks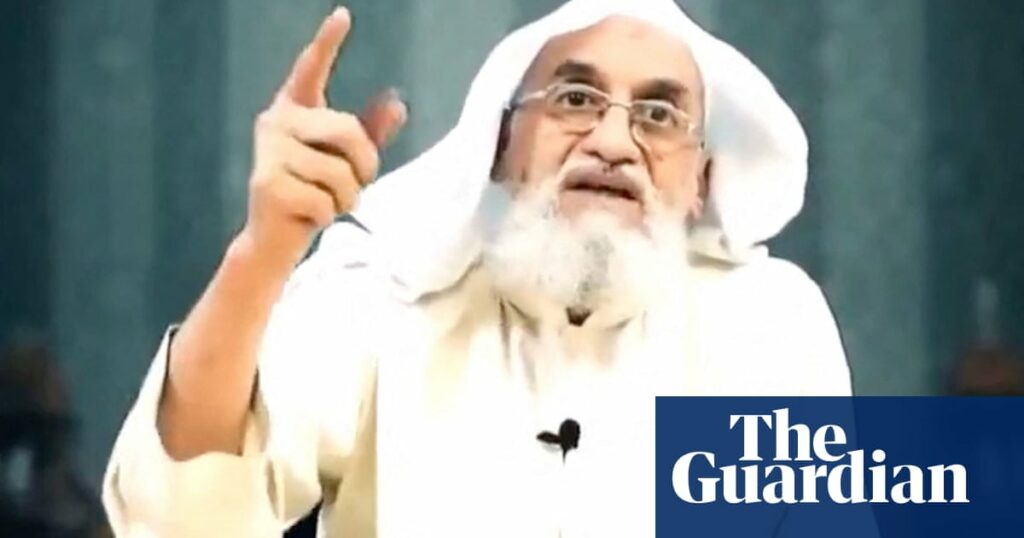 Sallow-skinned and clad in white in front of a green backdrop, Ayman al-Zawahiri looked a shadow of the man who had terrorised the world for more than a quarter of a century. The first – and last – image of the al-Qaida leader taken in close to 15 years was a far cry from the dour militant on a mountain ridge depicted in earlier shots. Instead it evoked an image of a man who was nearing his time.
And so it was when a US drone finally caught up with Zawahiri, sitting on a balcony in the heart of Kabul, a long way from Afghanistan's valleys and plateaus, from where he had helped lead a generation of global jihadists and plot a series of terror attacks that had defined modern history.
Osama bin Laden (left) with Ayman al-Zawahiri during an interview published in 2001. Photograph: Visual News/Getty Images
Zawahiri's journey from firebrand revolutionary to the most hunted man in the world had loosely tracked the rise and fall of his predecessor, Osama bin Laden. Galvanised by anger over the treatment of Muslims in Israel/Palestine, and in Afghanistan, the men had formed a formidable partnership from the mid-1990s, luring jihadists from around the globe to build a potent and lasting threat to the western order.
At every turn in al-Qaida's fortunes, Zawahiri had been central. He was the logistics man on 9/11 planning meetings, had even deeper involvements in the Tanzania bombings in 1998, the attack on the warship the USS Cole two years later, and the Madrid train bombings of 2004. Until US troops killed Osama bin Laden in a villa in central Pakistan in 2011, Zawahiri was perhaps the most significant operational figure in the terror organisation – but as al-Qaida subsequently struggled for relevance without its charismatic founder amid the broader jihadist cause, Zawahiri mattered less.
His ties to Islamic radicalism had run deeper than his boss. Zawahiri's worldview was honed in late-70s Cairo, where as the son of a doctor and scholar he had embraced the Palestinian cause and had helped form the Islamic Jihad organisation, which assassinated Egypt's president Anwar Sadat.
An undated picture of a younger Zawahiri, released after the 9/11 attacks in 2001. Photograph: EPA
His first exposure to the world was from a cage in a Cairo courtroom, where he proclaimed his hardline beliefs with a hectoring finger that would become familiar decades later. Zawahiri had studied the Muslim Brotherhood and read the incendiary teachings of Sayyid Qutb, whose books created an ideological framework for what was later to become global jihad.
The jihadi in waiting was at odds with his family of Egyptian intellectuals; one of his grandfathers was the Grand Imam of al-Azhar – the highest institution in Sunni Islam, and his grandfather's uncle was a founding secretary of the Arab League. Under other circumstances, Zawahiri could have wound up in government.
But he had no reservations in eschewing his background and falling in behind a Saudi from a very different life. Though Bin Laden came from money, his upbringing in Jeddah had been relatively liberal, and Zawahiri had held more status and influence.
Nonetheless, the Egyptian apprentice followed the Saudi master from the Arab world to the Afghanistan/Pakistan region without compunction. He married a Pashtun woman and blended in easily. He befriended his hosts and established an authority within al-Qaida from its earliest months until his dying day. Bin Laden's death, however, did have an impact. Taking out a figure of such prominence and charisma created a gap that the stern figure in the background could never fill.
While he remained committed to spreading the group's tentacles around the world, other obstacles emerged. The Arab Spring was first among them – a phenomenon that proved that popular revolts, not just militant Islamic jihad, could overthrow the very Arab regimes that Zawahiri despised. Then came Islamic State, a rival in the global jihad space, that denied al-Qaida oxygen.
Osama bin Laden and Ayman al-Zawahiri together in 2001. Photograph: AP
Zawahiri returned to the background, unable to replicate the attacks that had enshrined al-Qaida's name in infamy and seemingly content to bide his time. From his mid-60s onwards, Zawahiri's health declined. Beset by kidney problems, the trained surgeon was several times reported to have died.
He was instead attempting to revitalise al-Qaida from the chaos of the past 10 years and finally assert his presence as leader. Though that moment never came, counterterrorism specialists spent more time poring over his communiques and plans than they did of any other jihadist in recent years.
The Taliban's takeover of Kabul could have been just the break he needed. Back in the bosom of the group that had hosted him since the mid-1990s, Zawahiri felt safe enough to move his family into the villa of a senior Taliban leader. He spent time looking at the night skies from his balcony amid a city that he had long coveted to control.