With Beheading of Hindu 'Blasphemer' in India, a Red Line Is Crossed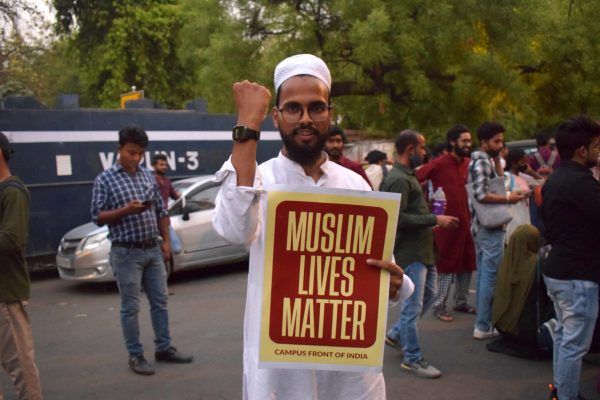 Notwithstanding the local context of the beheading, it is a continuation of the broader global trend of targeted assassination over blasphemy charges.
The bone-chilling murder of Kanhaiyalal in Udaipur, Rajasthan, over a social media post in support of now-suspended Bharatiya Janata Party (BJP) spokesperson Nupur Sharma, who denigrated the Prophet Muhammad, exposes India's sharp communal fault-lines. The 40-year-old Kanhaiyalal was killed in a premeditated attack by two Muslim men, Riyaz Attari and Ghous Muhammad, in his shop. The duo filmed the gruesome incident and uploaded the video on social media.
Kanhaiyalal's murder is situated in India's peculiar socio-political context, where radicalization has local roots and trigger factors. The growing influence of Hindutva under the ruling BJP's umbrella has pushed the beleaguered Indian Muslim community against the wall. In a way, incidents such as the murder of Kanhaiyalal constitute violent reactions by Muslims to years of frustration and pent-up aggression brewing under the surface.
Trigger incidents like Sharma's statement in a charged and polarized political environment act as push factors for the aggression to erupt and come out in the open. This can assume several violent forms, ranging from violent protests to riots, targeted assassinations (as witnessed in this case) to incidents of terrorism.
Though Kanhaiyalal's murder has a localized context, the blasphemy angle gives it an external dimension as well. The murder has taken place against a certain backdrop; it cannot be viewed in isolation from broader trends of Islamophobia in the world and violent reactions to them.
Diplomat Brief Weekly Newsletter N Get briefed on the story of the week, and developing stories to watch across the Asia-Pacific. Get the Newsletter
Since 2015, following the publications of caricatures of the Prophet Muhammad by satirical French magazine Charlie Hebdo, blasphemy activism has grown sharply in different parts of the world. There was an uproar in the Muslim world against Charlie Hebdo for insulting the Prophet under the garb of freedom of expression. In 2020, tensions bubbled over again when French President Emanuel Macron supported Charlie Hebdo's decision to republish the controversial cartoons to uphold the freedom of expression. During this period, Samuel Patty, a French college teacher who taught journalism, was beheaded by a Muslim student for showcasing Charlie Hebdo cartoons in his class.
Enjoying this article? Click here to subscribe for full access. Just $5 a month.
Similarly, targeted killings of secular bloggers and activists over alleged blasphemy charges have also taken place in Bangladesh.
Likewise, in Pakistan a neo-Barelvi political outfit, Tehreek-e-Labaik Pakistan (TLP), has taken blasphemy activism to a whole new level through its social media campaigns, violent protests, and impressive electoral performance. TLP made headlines in 2021 when it demanded the expulsion of the French ambassador from Pakistan in retaliation for Macron's support for Charlie Hebdo to republish the controversial caricatures. It is important to mention that TLP activists have carried out vigilante killings over alleged blasphemy charges in Pakistan. Hence, Kanhaiyalal's murder, notwithstanding its local context, is not isolated. Rather, it is the continuation of the broader trend of targeted assassination over blasphemy charges.
Against this backdrop, Kanhaiyalal's murder has two broader implications for India.
The first is that a certain threshold or a red line has been crossed by hardliners on both sides of the Indian communal divide. Until now, Hindutva groups focused on renaming historical landmarks named after Muslims to Hindu nomenclature, introducing the controversial Citizenship Amendment Act, or proliferated conspiracy theories like love and land jihad to ostracize the Muslim community socially and politically. Muslim people have been targeted by violent mobs, even beaten to death. However, with Sharma's comment, for the first time, a core tenet of the Muslim faith, i.e., the reverence of the Prophet Muhammad, has been assaulted.
The second implication is that, in retaliation, a targeted assassination has taken place.
For years, India has been an enigma for terrorism scholars and researchers for frustrating the attempts of al-Qaida and the Islamic State's regional franchises, al-Qaida in the Indian Sub-continent (AQIS) and the Islamic State of Khorasan Province (ISKP), to make inroads in the country. AQIS and ISKP's open admission of their failure to develop a rapport with vulnerable sections of Indian's diverse Muslim community is well-documented in their own propaganda publications.
However, Kanhaiyalal's beheading can turn that dynamic on its head. This incident will encourage both AQIS and ISKP to try harder to grow their networks. It is important to mention that both AQIS and ISKP tried to exploit the political situation in India in the aftermath of Nupur Sharma's statement. Both threatened India with revenge terrorist attacks. ISKP targeted a Sikh Gurdwara, Kart-e-Parwan, in Kabul as revenge for Sharma's insulting remarks.
How Indian authorities respond to this situation and restore communal harmony will have a direct bearing on the ability, or the lack thereof, of AQIS and ISKP to spread their networks in the largest South Asian nation.