Protests Erupt Against BJP Government's 'Bulldozer Politics'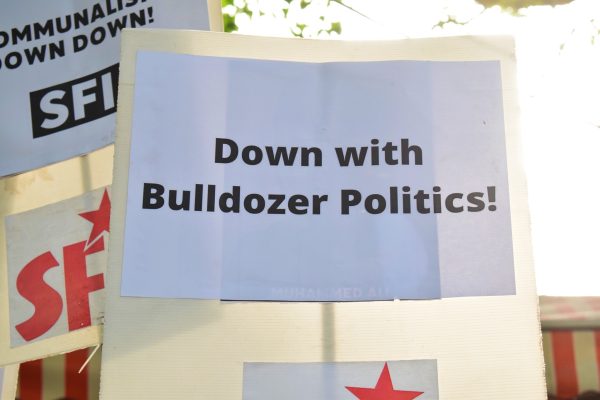 The homes of Muslims are being reduced to rubble to punish them for protesting against government actions targeting members of the community.
Prithvi (left) along with other student activists at the Jantar Mantar protest site in New Delhi, India, June 13, 2022.
Saumya, student activist of the All India Students Association, holds a placard reading "Justice for Muslim youth killed in Ranchi" at the Jantar Mantar protest site in New Delhi, India, June 13, 2022.
A student from Delhi University being taken into custody by the Delhi Police for protesting outside Uttar Pradesh Bhavan in New Delhi, India, June 13, 2022.
A huge crowd participating in the demonstration at the Jantar Mantar protest site in New Delhi, India, June 13, 2022.
Social activist Mohammed Farhan Akhtar holds a placard in solidarity with Muslims at the Jantar Mantar protest site in New Delhi, India, June 13, 2022.
Balu, a student activist of the Students Federation of India, at the Jantar Mantar protest site in New Delhi, India, June 13, 2022.
Despite the punishing heatwave sweeping northern India, students and social activists converged on June 13 at New Delhi's Jantar Mantar and Uttar Pradesh Bhavan to protest against the unlawful prosecution of members of India's Muslim community and the prejudiced "bulldozer politics" that the ruling Bharatiya Janata Party has unleashed on Muslims in the country lately.
The past weeks have seen a surge in state violence against Muslims.
Among the victims of its "bulldozer politics" is 22-year-old Afreen Fatima, a university student and a Muslim activist, whose father Mohammad Javed, a leader of the Welfare Party of India, is accused of masterminding protests that erupted in Uttar Pradesh's Prayagraj in the aftermath of the now-suspended BJP spokesperson Nupur Sharma's vile comments against Prophet Muhammad.
Fatima's father was arrested, while her mother and sister were detained, on the night of June 10 by police officials. Soon after, the Uttar Pradesh administration ordered a demolition drive. Citing illegal construction, it targeted Fatima's house. According to sources, there are multiple discrepancies in the notice issued by the civic authorities regarding the demolition of Fatima's house.
Diplomat Brief Weekly Newsletter N Get briefed on the story of the week, and developing stories to watch across the Asia-Pacific. Get the Newsletter
The unlawful demolition of protestors' houses by the Uttar Pradesh government is uncannily similar to what unfolded in recent weeks in Madhya Pradesh's Khargone and Delhi's Jahangirpuri neighborhood, where authorities deployed bulldozers to raze to the ground houses of only Muslim residents.
Enjoying this article? Click here to subscribe for full access. Just $5 a month.
Students, activists, and Muslims from different parts of the country who came together in New Delhi recently in support of Fatima also raised their voices against the religion-based violence that is unfolding in India.
"Just because Fatima participated in an anti-government protest [on the hijab row], her house has been demolished," Balu, a 26-year-old student at Jawaharlal Nehru University in New Delhi said.
"We came here because it's high time we tell the people in power that this country will not be divided again on the basis of religion," said Prithvi, a student activist of the Krantikari Yuva Sangathan in Delhi University. "The government just wants to divert our attention away from the things that matter by inciting religious tension among the people. We cannot be a part of a society filled with such hate," he said.
Many activists of the All-India Students Association and the Students Federation of India shouted slogans against the Yogi Adityanath government in Uttar Pradesh. People were seen holding placards that read "Stop bulldozing Muslim lives," "Down with Bulldozer politics," and "Muslim lives matter."
Delhi police detained some of the protesters at Uttar Pradesh Bhavan. Dozens of police and paramilitary personnel were present at the protest sites.
"Islamophobia is real in India. Boycotting Muslims is real in India. This is the truth of the situation in the country," Saumya, a student of Ambedkar University in Delhi who participated in the protests, said. "The mainstream media has turned a university-going student into a manipulative terrorist just because she is a vocal Muslim. The same news channels are broadcasting the demolition of her home as if it is something to be proud of. It makes me feel angry," she said.
Describing the demolitions of Muslim homes as "truly unconstitutional," Saumya said that "fascist forces are intruding India's state machinery and are actually demolishing the constitution of the country."
Pointing to the unconstitutional means that the Uttar Pradesh government is using to silence Muslim voices, social activist Mohammed Farhan Akhtar said that he was at the protest site "to save our democratic nation and its values."
"The common citizen fails to understand the Hindu-Muslim divide that this regime is imposing on the people just for petty politics," Akhtar said. "If we believe in Gandhian principles [of non-violence] then what is stopping us from coming out on the streets to save this nation?"