Female referees to officiate at men's World Cup for the first time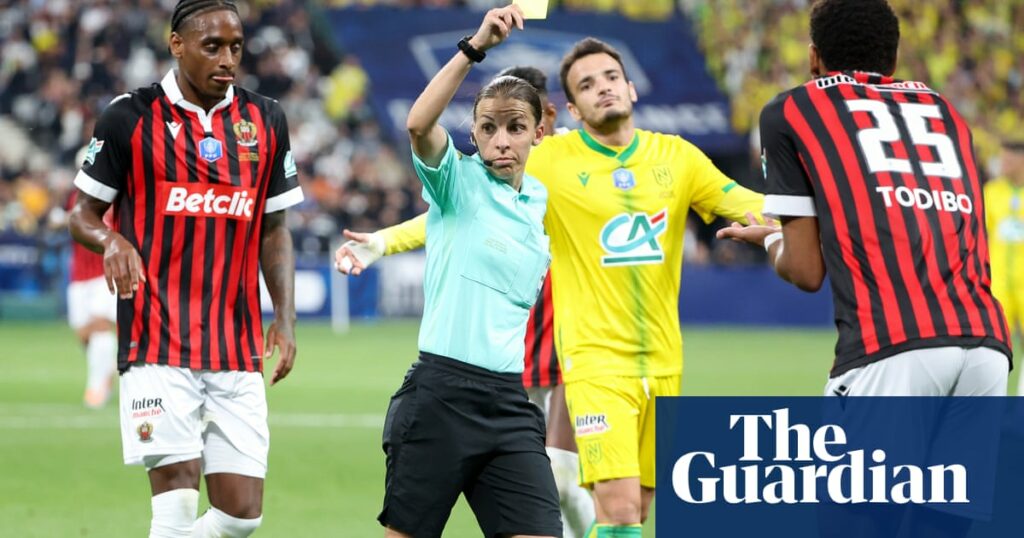 Show caption Stéphanie Frappart, one of the referees chosen for the World Cup, shows a yellow card at this month's French Cup final between Nice and Nantes. Photograph: John Berry/Getty Images Referees Female referees to officiate at men's World Cup for the first time Three female referees and three female assistants selected
'Quality counts for us and not gender,' says Fifa's head of referees Paul MacInnes @PaulMac Thu 19 May 2022 13.31 BST Share on Facebook
Share on Twitter
Share via Email
Female referees are to officiate at a men's World Cup for the first time, Fifa has confirmed, with three female assistant referees joining them. In a breakthrough for gender equality within football, Stéphanie Frappart of France, Rwanda's Salima Mukansanga and Yoshimi Yamashita of Japan have been included on the list of 36 referees who will take the field in Qatar in November and December.
The trio will be joined by Neuza Back of Brazil, Mexico's Karen Díaz Medina and Kathryn Nesbitt from the United States, who form part of the 69-strong list of assistant referees.
According to Fifa's head of refereeing, Pierluigi Collina, the selection of officials was made without consideration to gender. "This concludes a long process that began several years ago with the deployment of female referees at Fifa men's junior and senior tournaments," Collina said.
"In this way, we clearly emphasise that it is quality that counts for us and not gender. I would hope that in the future, the selection of elite women's match officials for important men's competitions will be perceived as something normal and no longer as sensational.
"They deserve to be at the Fifa World Cup because they constantly perform at a really high level, and that's the important factor for us."
Frappart is one of the leading referees in women's football and a trailblazer within the men's game. In 2019 she refereed the final of the Women's World Cup and became the first female official of a French Ligue 1 match, and refereed the men's Uefa Super Cup between Liverpool and Chelsea. The following year she was the first woman to referee a men's Champions League game and in 2021 the first to referee a men's World Cup qualifier.
Yamashita, 36, has made a similar breakthrough in Asian competitions. She became the first female referee of a J1 League game in May of last year and this year has taken charge of matches in the Women's Asian Cup and the Asian equivalent of the men's Champions League. Mukansanga has officiated at the Africa Women Cup of Nations, the CAF Women's Champions League and the 2020 Olympics in Tokyo.
Quick Guide How do I sign up for sport breaking news alerts? Download the Guardian app from the iOS App Store on iPhones or the Google Play store on Android phones by searching for 'The Guardian'.
If you already have the Guardian app, make sure you're on the most recent version.
In the Guardian app, tap the yellow button at the bottom right, then go to Settings (the gear icon), then Notifications.
Turn on sport notifications. Show Hide
Fifa has picked 24 men to work on video review technology, with semi-automated VAR for offside decisions still being considered. Two referees were picked from each of Argentina, Brazil, England and France. England's representatives will be Michael Oliver and Anthony Taylor.
Janny Sikazwe of Zambia, who caused controversy when refereeing a chaotic Africa Cup of Nations game in January while suffering with heatstroke, has also been selected.