PROLONGED POLITICAL TURMOIL MAY DODGE PAKISTAN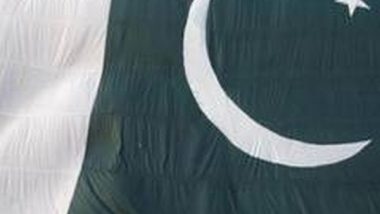 Pakistan seems headed for prolonged political turmoil amidst economic woes of its people heavily burdened by rising prices of essential commodities. Worse, the likely early elections to its National Assembly may not end this turmoil.
The new coalition of Prime Minister Shehbaz Sharif that succeeded another led by Imran Khan last month has made its intent clear that it will complete the remaining tenure, till July 2023. But Khan is working to force early elections hoping to reap benefits of the perceived popular support that his ouster from office has generated.
Over a hundred of lawmakers supporting him resigned last month. While in theory, the Sharif government can continue in office, such efforts actually prove counter-productive for the incumbent when faced by raging protests on the streets that Khan has shown he is capable of organising.
He had warned in the run-up to the crisis that he would prove "more dangerous out of power." He is carrying it out to the hilt. Attempts to restrain him by putting behind bars and/or involving him court trials for graft and treason that are fast emerging could only help him become a Robin Hood.
Significantly, the world community, watching Pakistan undergoing its self-inflicted crisis, is by and large, helpful. Sharif has returned from his first foreign visit to Saudi Arabia with an impressive package of loans and concessional fuel supplies that add up to USD eight billion. The UAE and other friends may follow.
Pakistan's talks for an International Monetary Fund (IMF) for a USD six billion bailout have resumed. Indications are that the businessman-politician with vast experience in both the arenas (he was thrice chief minister of the most populous Punjab province) may succeed in easing the economic situation with generous foreign help.
This should help counter Khan's allegations that he was voted out of office through "a foreign conspiracy" in which he has named the United States, Pakistan's biggest benefactor. The problem for both the US and the Sharif regime is that Khan persists with it, even after losing office, and has made it his principal political plank as he battles his opponents.
In Pakistan, it is easy to whip up anti-West sentiment, given the influence of the clergy and the conservatives in the society. Khan exploits this being a rank conservative, individually and politically, despite his Western education, long years in England playing cricket and his first wife being a British Jewish-Christian heiress.
Analysts say Khan retains much of the ground support he has garnered in his campaign against the "corrupt dynasties" – the Bhutto-Zardaris who head the Pakistan Peoples' Party (PPP) that rules in Sindh province and the Sharifs who have just regained power in Punjab, where Prime Minister Sharif's son Hamza is now the Chief Minister. Indeed, Khan had exploited the popular sentiment, and specific graft cases that the two 'dynasties' had instituted against each other in the past.
Khan's tirade against the two families' alleged corruption has the support of the middle classes, the urban youth and sections of middle-level and retired civil and military officers, Najam Sethi, a known Khan critic, stressed on this in his editorial in the popular Friday Times (May 2, 2022).
In weeks and months to come, campaigning to force a snap poll, Khan is expected to malign the two families and demand that graft cases against them be pursued, even as the Sharif government readies its own dossier against him. One of them is Khan's admission that he had sold away expensive gifts received while in office. The law says that those valued beyond certain amount must be declared and deposited in 'toshakhana', the government treasury.
One of them was a precious ornament gifted to Khan by Saudi Arabian Crown Prince Mohammed bin Salman whose relationship with Khan, unlike that with the Sharif family, has been transactional. Analysts point to the universal sentiment of disapproval at finding one's gift being sold to make money.
Viewed from the Western standpoint, the Sharif regime can be expected to open trade with adversarial India, among others. Whether that would help reduce Pakistan's heavy dependence on China seems doubtful. After all, Pakistan has got used to, and is heavily indebted to, the China Pakistan Economic Corridor (CPEC) that was begun in 2015 when Nawaz, the elder Sharif, now exiled in London, was the prime minister.
It is likely that after visiting Saudi Arabia, home to Islam's highest shrines, which is 'mandatory' in political and religious terms for any Pakistani premier, Shehbaz may head for China to reassure Beijing of safety measures after last week's terror attack that killed three Chinese academics at the Karachi University.
Imran Khan had made a sore point of not receiving even a phone call from US President Joe Biden, leave alone an invitation to Washington. Whether Biden will invite Sharif to woo him away China, even somewhat, remains to be seen.
Much will depend upon how Sharif puts Pakistan back on course, while battling a street-happy Khan. But his image of a pro-West moderate has already irked the Islamists whom Khan can encourage.
Finally, there is mutuality of interests, as of now, between Sharif and the all-powerful army. The latter burnt its fingers in supporting Khan's elevation. While not letting the guard down, the military needs a period of quiet "regrouping" to retain its influence on a polity that will witness much turmoil in the coming months.