As it happened: Ukraine denies attacking fuel depot inside Russia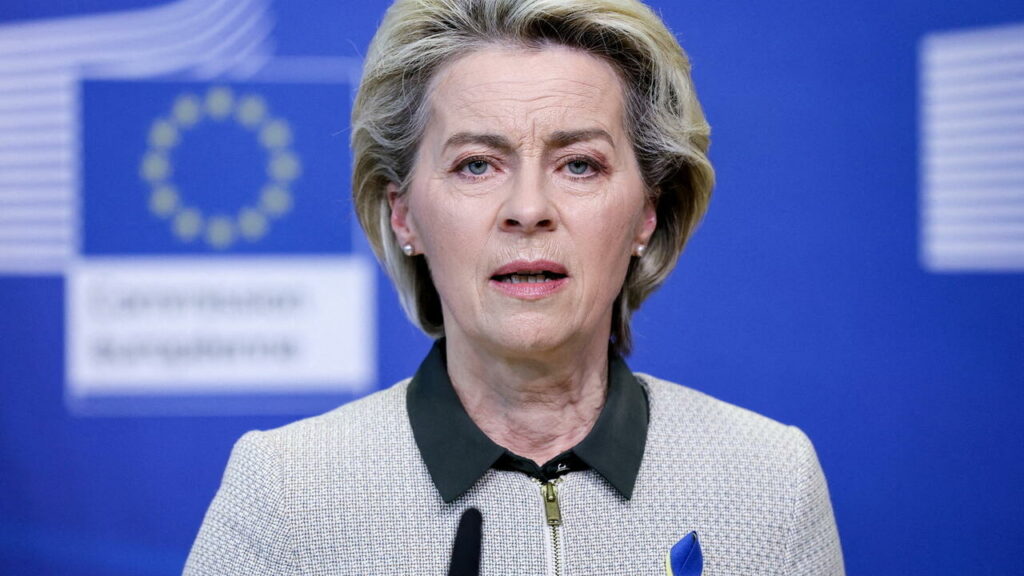 WAR IN UKRAINE
In this handout photo released by Russian Emergency Ministry Press Service on Friday, April 1, 2022, firefighters work at the site of fire at an oil depot in Belgorod region, Russia.
The Red Cross on Friday said a team sent to help evacuate civilians from the besieged Ukrainian city of Mariupol had been forced to turn around after conditions made it "impossible to proceed". Russia accused Ukraine of carrying out an air strike against a fuel depot in the Russian city of Belgorod on Friday but a top Kyiv security official denied responsibility. Read our live blog below to see how the day's events unfolded. All times are Paris time [GMT+2].
Advertising Read more
10:50pm: Buses carrying Mariupol residents arrive in northwest Ukraine's Zaporizhzhia
A column of buses carrying residents of the besieged Ukrainian city of Mariupol arrived in Zaporizhzhia to the northwest on Friday, according to an AFP reporter on the scene.
The buses carried residents who had been able to escape Mariupol to Russian-occupied Berdiansk and from there were bussed to Zaporizhzhia, the evacuees and officials said.
9:50pm: US providing Ukraine with supplies in case Russia deploys chemical weapons
The United States is providing Ukraine with supplies and equipment in case Russia deploys chemical or biological weapons, the White House said on Friday, underscoring that this would not compromise domestic preparedness in any form.
White House press secretary Jen Psaki said the supplies were being provided given a warning by the United States and other countries about the possibility that Russia could deploy such weapons in Ukraine and might be planning a "false flag" operation to lay the groundwork for such an attack.
9:48pm: Ukraine denies attacking fuel depot inside Russia, mayor says fire almost out
Russia accused Ukraine of carrying out an air strike against a fuel depot in the Russian city of Belgorod on Friday, an incident the Kremlin said could affect peace talks, but a top Kyiv security official denied responsibility.
Russia's defence ministry said two Ukrainian helicopters struck the facility in Belgorod, some 35 km (22 miles) from the border with Ukraine, after entering Russia at extremely low altitude at around 5 a.m. Moscow time (0200 GMT).
The resulting blaze forced the evacuation of some people but late in the day Belgorod mayor Anton Ivanov said fire services were extinguishing the last remnants.
"There is no threat to human life and health. All residents can return to their homes," he said in an online post.
9:46pm: 'People are exhausted': Hundreds shelter from shelling in Kharkiv's underground metro
Deep under the streets of Kharkiv in eastern Ukraine hundreds of people are sheltering from fierce Russian bombardment, occupying metro stations where they do what they can to get comfortable, as FRANCE 24's Catherine Norris Trent reports in the video below.
02:45
9:44pm: People still 'cannot easily move' around Kyiv
"Right now in the capital there are lots of checkpoints; you cannot easily move –you have to show documents all the time," theatre director Tanya Shelepko told FRANCE 24 from Kyiv in the video below. "The city is quite empty but many people came back in the last week. Today the ministry said the theatres can start working [to develop] programmes to help people in these difficult times. They will be announcing their programmes from the next week but we will see if it's possible to work."
04:26
8:58pm: Kremlin spokesman says Russia will strengthen its western borders
Kremlin spokesman Dmitry Peskov on Friday said Russia would strengthen its western borders so that "it wouldn't cross anyone's mind to attack", RIA news agency reported.
RIA also cited Peskov as saying the strengthening exercise would ensure the "necessary parity" was maintained, but did not give details.
8:56pm: US task force on Russian oligarchs sees evidence of sanctions evasion
The US Department of Justice task force targeting assets of Russian oligarchs has seen evidence of attempts to evade those sanctions or move assets in anticipation of possible sanctions, the unit's chief said on Friday.
Andrew Adams, a veteran prosecutor tapped to lead the department's new "KleptoCapture" force last month, told Reuters in an interview that the level of cooperation between countries on probes into oligarchs' ill-gotten gains had reached an "all-time high" in the wake of Russia's assault on Ukraine – potentially helping prosecutors track down their efforts to hide wealth.
8:44pm: Death toll rises to 31 from strike on government building in Ukraine's Mykolaiv
At least 31 people have been confirmed killed as a result of Tuesday's rocket strike on the regional administration building in Ukraine's southern city of Mykolaiv, local emergency services said in an online post on Friday.
Round-the-clock rescue operations were still taking place, the post said.
Rescue workers had to pull victims from the rubble after Tuesday's attack blasted a hole through the side of the building in central Mykolaiv.
7:02pm: Blinken, Truss discuss additional actions in response to invasion
US Secretary of State Antony Blinken and British Foreign Secretary Liz Truss on Friday discussed additional possible actions to ratchet up their response to Russia's invasion of Ukraine, the US State Department said.
The two also discussed the upcoming NATO foreign ministers' meeting, the State Department said in a statement.
6:52pm: Red Cross says 'impossible' to go ahead with Mariupol evacuation on Friday
The Red Cross said the team it sent to facilitate the evacuation of thousands of civilians from Mariupol on Friday had been forced to turn around after conditions made it "impossible to proceed".
"The ICRC team, which consists of three vehicles and nine personnel, did not reach Mariupol or facilitate the safe passage of civilians today," the International Committee of the Red Cross said in a statement, adding: "They will try again on Saturday to facilitate the safe passage of civilians from Mariupol."
6:19pm: Kyiv satellite town Bucha recaptured by Ukraine, mayor says
Ukrainian forces have recaptured the town of Bucha, near the capital Kyiv, its mayor said on Friday.
"March 31 will go down in the history of our town… as the day of its liberation from Russian (forces)," Mayor Anatolii Fedoruk said in a video which appeared to be filmed outside Bucha's town hall.
5:57pm: Local governor says Russia is breaking promises on Mariupol humanitarian corridor
The governor of Ukraine's eastern Donetsk region on Friday accused Russia of breaking its promises in terms of allowing humanitarian aid to reach the city of Mariupol, which is encircled by Russian troops.
"Humanitarian deliveries, despite all the agreements and promises of the Russian side, are not being carried out," Governor Pavlo Kyrylenko said in a televised address. "The humanitarian corridor … is essentially not operational."
5:49pm: Red Cross teams on way to Mariupol, but without aid
The International Committee of the Red Cross (ICRC) is sending staff to the besieged Ukrainian port city of Mariupol and is hopeful that evacuations of thousands of civilians can begin on Friday, a spokesperson said at a media briefing.
A previous attempt by the Red Cross to access it in early March failed because the route was found to be unsafe and conflict resumed.
"We have permission to move today and we are en route to Mariupol," ICRC spokesperson Ewan Watson said. "We are hopeful it (the safe passage operation) will commence today."
5:42pm: Biden says 30 countries joining US release of oil reserves
US President Joe Biden said Friday that more than 30 countries have joined the United States in tapping national oil reserves to try and settle global energy markets spooked by fallout from Russia's invasion of Ukraine.
"This morning, over 30 countries from across the world convened in an extraordinary meeting and agreed to the release of tens of millions of additional barrels of oil onto the market," Biden said in an address from the White House.
5:41pm: Over 50 landmark Ukraine sites damaged in Russian invasion, UN says
The UN's cultural agency UNESCO on Friday said it had confirmed that at least 53 Ukrainian historical sites, religious buildings and museums had sustained damage during Russia's invasion of the country.
"This is the latest list but it is not exhaustive as our experts are continuing to verify a number of reports," filed by the Ukrainian authorities, a UNESCO spokesman told AFP as the body published a list of damaged 53 sites in the north and east of the country.
UNESCO said overall 29 religious sites, 16 historic buildings four museums and four monuments are confirmed to have been damaged in Ukraine. The list does not include information from the besieged city of Mariupol or the city of Kherson which was captured by Russia. None of those confirmed damaged are on the list of UNESCO World Heritage sites in Ukraine, such as the Saint-Sophia Cathedral and monastic buildings of the Kyiv-Pechersk Lavra in Kyiv.
Saint Sophia's Cathedral in Kiev pictured on March 26, 2020. © AFP (Archives)
5:20pm: China tells EU it will pursue Ukraine peace in its own way
China offered the European Union assurances on Friday that it would seek peace in Ukraine but said this would be on its own terms, deflecting pressure for a tougher stance towards Russia.
Chinese Premier Li Keqiang told EU leaders that Beijing would push for peace in "its own way", while President Xi Jinping said he hoped the EU would treat China "independently", in a nod to Europe's close ties with the United States.
4:40pm: Germany indicts army reservist suspected of spying for Russia
Germany has indicted a former officer in its reserve force on charges of spying for Russia, the Federal Public Prosecutor (GBA) said on Friday, in a case that may worsen relations strained by tensions over Russia's invasion of Ukraine.
As a deputy commander of a squad, Ralph G., whose family name cannot be fully disclosed under privacy laws, provided Russian agents with "numerous documents and information" about the German army from October 2014 until March 2020, German prosecutor Ines Peterson said in a statement.
3:54pm: EU's von der Leyen warns China of 'reputational damage' if it backs Russia
The EU's top officials warned China's leaders at a summit Friday not to help Russia wage war on Ukraine or sidestep Western sanctions, European Commission head Ursula von der Leyen said.
"It would lead to a major reputational damage for China here in Europe," von der Leyen said after the video talks with Chinese President Xi Jinping.
3:51pm: 'European governments should be worried'
"European governments should be worried; gas markets are worried," Georg Zachmann, a senior fellow on energy and climate policy at Bruegel, tells FRANCE 24 in the video below.
03:39
3:50pm: Ukraine says Russian forces pushed back around Kyiv
Russian forces are being pushed back around Kyiv but fighting is still fierce in some areas near Ukraine's capital, Ukrainian officials said on Friday.
Russia said during negotiations on Tuesday that it would scale down operations in the Kyiv and Chernihiv regions, both of which are in northern Ukraine, but officials in both regions say fighting has continued in some areas.
3:14pm: EU agrees to stockpile equipment, drugs against chemical, nuclear incidents
The European Union has agreed to launch a stockpiling operation to boost its defences against chemical, nuclear and biological incidents amid concerns over the conflict in Ukraine, according to EU documents and people familiar with the matter.
The stockpiling of protective gear and medicines is expected to last weeks, potentially a few months, and is meant to expand reserves available to the EU population and partner countries, including Ukraine.
The supplies will also include decontamination equipment, gloves, masks and other material for chemical, biological, radiological and nuclear defence (CBRN), two people familiar with the matter told Reuters on Friday.
3:10pm: Russia using church as staging ground for Kyiv attack, US official says
Russian forces are using a church site 22 miles northwest of Kyiv as a staging ground for their assault on the Ukrainian capital, a senior US administration official said on Friday.
"Military personnel are situated both on the grounds of the church and the surrounding residential area," the official said on condition of anonymity and without citing evidence.
3:07pm: Zelensky says he and Macron discussed Mariupol evacuation plan
Ukrainian President Volodymyr Zelensky said on Friday he had spoken to French President Emmanuel Macron about the need to implement an initiative by Paris to help civilians evacuate the besieged city of Mariupol.
"The initiative of France on humanitarian corridors from Mariupol must be implemented!," Zelensky said on Twitter after the call.
2:48pm: Russia offers to 'explain' Ukraine situation to Gérard Depardieu
The Kremlin on Friday offered to "explain" Moscow's actions in Ukraine to French actor Gérard Depardieu after he denounced Russian President Vladimir Putin's "crazy, unacceptable excesses".
The 72-year-old star took up Russian nationality in 2013 and became a friend of Putin, but came out against the conflict in Ukraine and called for negotiations just days after the start of Moscow's military campaign in Ukraine.
"He does not understand what happened in Ukraine in 2014," Kremlin spokesman Dmitry Peskov said, accusing Ukraine of bombarding civilians in the country's east. "If necessary, we will be ready to tell him about this and explain so that he understands better."
2:45pm: Europe pursues unified Russian gas payment
European governments and companies were working on Friday on a common approach to President Vladimir Putin's demand that they pay for Russian gas in roubles as the threat of an imminent halt in supplies eased. European capitals have been on alert for a disruption to gas imports for weeks as Putin seeks retaliation over the West sanctioning Russia for invading Ukraine.
But the Kremlin said on Friday it would not immediately turn off gas exports to Europe as payments on deliveries due after April 1 come in the second half of this month and May. "If Putin turns off the gas it might only be for a relatively short period of time, he needs our money and cannot reroute all the natural gas," a European gas trader, who declined to be named, told Reuters.
1:02pm: Russia-Ukraine peace talks resume
Russia and Ukraine on Friday resumed peace talks by video conference, after Moscow reported a Ukrainian strike on a fuel depot in western Russia, a negotiator said.
"We are continuing talks by video conference," Moscow's chief negotiator Vladimir Medinsky said on Telegram. "Our positions on Crimea and Donbass have not changed."
12:34pm: Lavrov praises India's stance on Ukraine war
Russia's foreign minister praised India's approach to Ukraine on Friday, as he held talks likely aimed at pressing New Delhi to resist Western pressure to condemn Moscow's invasion.
"These days our Western colleagues would like to reduce any meaningful international issue to the crisis in Ukraine… (We) appreciate that India is taking this situation in the entirety of facts, not just in a one-sided way," Sergei Lavrov said in New Delhi as he met counterpart S. Jaishankar.
"Friendship is the key word to describe the history of our relations and our relations were very sustainable during many difficult times in the past," Lavrov said, speaking in English.
11:40am: Ukraine has shown 'much more understanding' of the situation in Crimea and Donbas, says Lavrov
Russian Foreign Minister Sergei Lavrov said on Friday that some progress had been made at peace talks with Ukraine and that Moscow was preparing its response to Ukrainian proposals.
Speaking at a briefing after talks with his Indian counterparts, Lavrov said that peace talks with Ukraine needed to continue but that Kyiv had shown "much more understanding" of the situation in Crimea and Donbas and the necessity of its neutral status.
Read more analysis on the war in Ukraine © Studio graphique France Médias Monde
11:15am: Russian forces withdrawing from Chernihiv area, says local governor
Russian forces are withdrawing from the Chernihiv region of northern Ukraine but have not yet left entirely, the local governor said in a video address on Friday.
"Air and missile strikes are (still) possible in the region, nobody is ruling this out," Governor Viacheslav Chaus said, adding that Ukrainian forces were entering and securing settlements previously held by Russian troops.
Chaus said it was still too early for Ukrainian forces in the Chernihiv region to let their guard down as Russian troops "are still on our land". Russia said on Tuesday it would scale down operations in the Chernihiv and Kiev regions.
10:59am: 'Not yet clear' if Mariupol evacuations will happen on Friday, says Red Cross
The Red Cross said it was "not yet clear" that the evacuation of civilians from the besieged Ukrainian city of Mariupol would go ahead as planned on Friday.
"We remain hopeful, we are in action moving towards Mariupol … but it's not yet clear that this will happen today," Ewan Watson, a spokesman for the International Committee of the Red Cross, told reporters in Geneva, as an ICRC team of three cars and nine staff headed towards the city.
09:05am: Ukraine air strike on petrol depot in Russia's Belgorod, says local official
"There was a fire at the petrol depot because of an air strike carried out by two Ukrainian army helicopters, who entered Russian territory at a low altitude," Vyacheslav Gladkov wrote on his Telegram channel.
Two employees at the storage facilities were injured as a result of the fire, he said in another post. Some 170 personnel were trying to put out the blaze, according to Russia's emergencies ministry. Rosneft, which owns the facility, told Russian news agencies that it had evacuated staff from the premises.
On Wednesday, explosions could be heard from an arms depot in Belgorod but the authorities did not provide any explanation for the blasts.
Belgorod lies some 40 kilometres (25 miles) from Russia's border with Ukraine and some 80 kilometres from the Ukrainian city of Kharkiv, which has been pummelled by Russian forces since Moscow launched its war on February 24.
08:54am: French actor criticises Putin's 'crazy, unacceptable excesses' in Ukraine
French actor Gérard Depardieu, who has praised Russian President Vladimir Putin in the past, has criticised his "crazy, unacceptable excesses" in Ukraine.
Depardieu, who took up Russian nationality in 2013, told Agence France Presse on Thursday: "the Russian people are not responsible for the crazy, unacceptable excesses of their leaders like Vladimir Putin."
Depardieu also said he would give all the proceeds from three nights of concerts in Paris from April 1 to "Ukrainian victims of this tragic fratricidal war".
08:14am: Russia preparing for 'powerful strikes', says Zelensky
Ukraine's President Volodymyr Zelensky warned Russia is consolidating and preparing "powerful strikes" in the country's east and south, including besieged Mariupol, where a new attempt will be made Friday to evacuate civilians from the devastated city.
Russia meanwhile threatened to turn off its gas taps to Europe if payments are not made in rubles, as US President Joe Biden ordered a record release of strategic oil reserves to ease soaring US prices.
Over a month into Russia's invasion of its neighbour, Vladimir Putin's troops have devastated cities like Mariupol with shelling, killing at least 5,000 people in the port city alone.
In peace talks this week, Russia said it would scale back attacks on the capital Kyiv and the city of Chernigiv, but Ukrainian and Western officials have dismissed the pledge, saying Moscow's troops were merely regrouping.
"This is part of their tactics," said Zelensky in a late-night address.
07:15am: EU to push China at virtual summit to not support Russia
Chinese President Xi Jinping will hold the videoconference with EU leaders Charles Michel and Ursula von der Leyen, carrying through on an annual exercise that was skipped last year as tensions simmered.
"The meeting will focus on the role we are urging China to play, to be on the side of the principles of international law without ambiguity and exert all the necessary influence and pressure on Russia," said French European affairs minister Clement Beaune, whose country holds the EU's rotating presidency.
"This was not the initial purpose of the summit but it necessarily became one," Beaune said, though he insisted other topics such as climate and trade "would not disappear".
The EU-China summit is usually an effort to deepen trade ties. But, last year's exchange of tit-for-tat sanctions over the plight of China's Uyghur minority, followed by Beijing's trade coercion of EU-member Lithuania over Taiwan, soured preparations for the meeting.
(FRANCE 24 with AFP, AP and REUTERS)
Daily newsletterReceive essential international news every morning Subscribe