Modi's BJP set for big win in India's state elections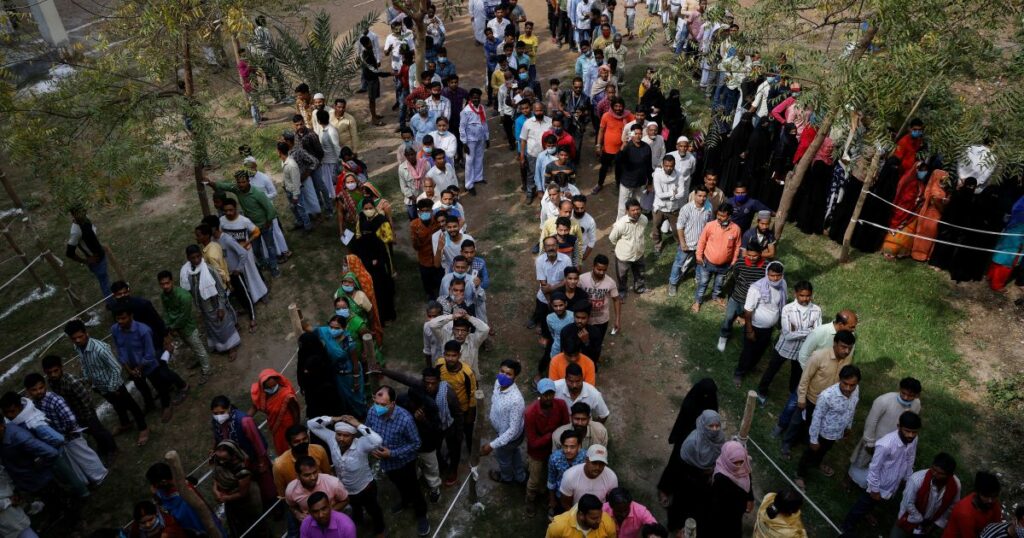 The state polls are a crucial test for PM Narendra Modi's Hindu nationalist Bharatiya Janata Party before national elections in 2024.
India's ruling Bharatiya Janata Party (BJP) looks set to retain populous Uttar Pradesh and is leading in regional elections in three other states in what is being seen as an endorsement of Prime Minister Narendra Modi's popularity before general election in 2024.
The BJP coalition was leading in more than 270 of the 403 seats in Uttar Pradesh, Indian news channels reported on Thursday citing counting data, while the Election Commission said the party was ahead in enough seats to hold onto power.
"Everyone will he surprised by the mandate because we are going to win with a thumping majority," said Uttar Pradesh BJP spokesman Rakesh Tripathi.
Uttar Pradesh is home to about a fifth of India's 1.35 billion people and sends the most legislators to parliament of any state.
The key northern state is governed by Yogi Adityanath, a highly divisive Hindu monk-turned-politician whose rise has been marked by anti-Muslim rhetoric and violence.
Adityanath, 49, rose from humble beginnings to become head priest of an important Hindu temple and founded a vigilante youth group.
Its volunteers regularly rough up Muslims and Dalits (formerly referred to as "untouchables") accused of slaughtering cows, an animal sacred to mostly upper-caste Hindus.
His administration also brought in a law to ban "love jihad", an unproven conspiracy theory propagated by the BJP and its Hindu right-wing allies accusing Muslims of marrying Hindu women in order to convert them to Islam.
The Uttar Pradesh government has also targeted journalists and others with spurious "sedition" charges, critics say.
Media reports say more than 100 alleged criminals – most of them Muslims or Dalits – have been the victims of extra-judicial police killings, a charge Adityanath denies.
His economic record has also been poor and his government is widely seen as having bungled the response to COVID-19, including by concealing the real death toll.
"The BJP's big win in Uttar Pradesh shows consolidation of the Hindutva project," journalist and political analyst Arati R Jerath told Al Jazeera.
Hindutva refers to a century-old right-wing movement that aims to create an ethnic Hindu state out of a multicultural India, home to more than 200 million Muslims.
AAP to sweep Punjab
In elections in four smaller states over the past month, the Aam Aadmi Party (AAP) that governs the national capital territory of Delhi is headed for a landslide victory in the northern state of Punjab, while the races are tight but in favour of the BJP in Manipur, Goa and Uttarakhand.
The opposition Congress appeared to have lost the "grain bowl" state of Punjab to the upstart party in a major blow to the Gandhi dynasty's once-mighty party.
The voice of the people is the voice of God …. Humbly accept the mandate of the people of Punjab …. Congratulations to Aap !!! — Navjot Singh Sidhu (@sherryontopp) March 10, 2022
The final tally for the five states where voters went to the polls over a month to cast their ballots was expected by Thursday evening at the earliest.
It has long been said that without winning Uttar Pradesh and the neighbouring state of Bihar, no party or coalition has much hope of securing a majority in parliament. The BJP has been in power in both.
"BJP is now [the] only national force left. No challenge to it nationally," Jerath said.
For decades, Uttar Pradesh was a stronghold of the main opposition Congress party, but it has been unable to stem a slide in its popularity over recent years.
The BJP's win in Uttar Pradesh is a "big endorsement of the kind of aggressive and hard-nosed politics that he [Modi] has been pursuing", journalist and Modi biographer Nilanjan Mukhopadhyay said.