The Trailer: 'A fight that will excite black voters': How Democrats see SCOTUS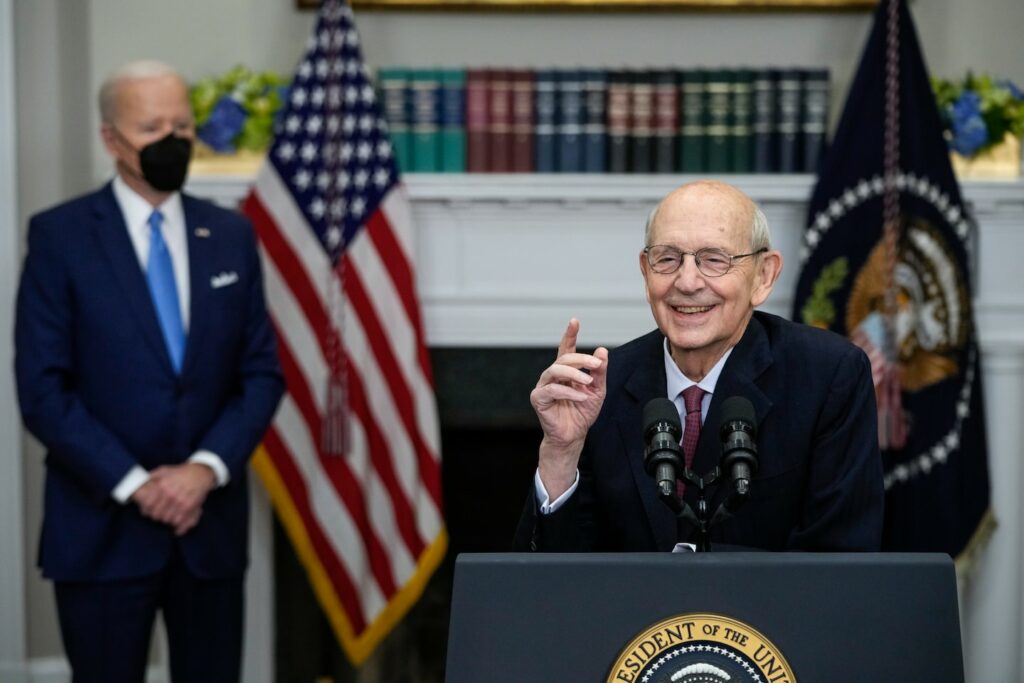 "It was clearly the truck that did it," joked Brian Fallon.
Demand Justice, the liberal judicial confirmation group Fallon co-founded in 2018, had rented a billboard truck last year as part of its "Breyer, Retire" campaign. It was blunt, urging Supreme Court Justice Stephen G. Breyer to pack it in because it was "time for a Black woman" to join the bench. The truck circled downtown D.C. for a single day.
Story continues below advertisement
On Wednesday night, after word of Breyer's retirement emerged, Fallon watched Fox News host Tucker Carlson highlight the truck stunt and ask why Demand Justice's "very White" founder didn't give his own job to a Black woman. Other hosts and guests attacked President Biden for focusing "purely on race and gender" by promising, two years ago, to put the first Black woman on the Supreme Court. Former U.N. ambassador Nikki Haley denounced Biden's promise as a "race/gender litmus test."
Democrats were expecting this. Overwhelmingly, they expect that Republicans accusing Biden of racism for picking a Black, female judge to replace Breyer will help them turn out votes. Biden's February 2020 promise to "mak[e] sure there's a Black woman on the Supreme Court" didn't have political downsides that year — the campaign never polled it, and he won the election.
"Racists are gonna racist," said state Rep. Malcolm Kenyatta (D), who's running for U.S. Senate in Pennsylvania, and would be the first Black man to hold that office in the state. "We're going to nominate an incredibly qualified Black woman to the bench, something that has never been done, and people are up in arms."
Story continues below advertisement
Republicans have given mixed signals about how they'll fight a Biden nominee — a liberal judge replacing a liberal justice, leaving the court's 6-to-3 conservative majority intact. Reactions from 2022 candidates on Wednesday ranged from resignation about Democrats getting their pick through, fan fiction about Hillary Clinton becoming vice president, and attacks on the "squishy establishment" for not fighting to block any nominee.
Marjorie Dannenfelser, president of the antiabortion group Susan B. Anthony List, poured resources into the 2017, 2018, and 2020 nomination fights that created that new majority. Replacing Breyer, she said, would maintain the status quo, and whether her group would invest in a low-stakes court fight would depend on who the nominee is.
"Elections have consequences," Sen. Lindsey O. Graham (R-S.C.) said Wednesday, suggesting that "if all Democrats hang together" there is no stopping their nominee.
Story continues below advertisement
The Senate has been here before: a Supreme Court vacancy, a president promising to add diversity to the court, and a party in power that probably has the votes to do it. Each time, the campaign to confirm the nominee emphasized their identity, and counted on their opponents to get into a battle over race or representation that blew up and galvanized their voters.
That's how Democrats remember the 2009 confirmation of Justice Sonia Sotomayor, the first Latina member of the court, whom opponents accused of making decisions based on race and lacking the brainpower of other nominees.
Sotomayor had given remarks about how "a wise Latina woman with the richness of her experiences would more often than not reach a better conclusion than a white male who hasn't lived that life," and the phrase "wise Latina" defined the campaign against her, as Republicans asked whether she'd be unable to make objective decisions.
Story continues below advertisement
Conservatives felt that the attacks stuck to Sotomayor. Democrats were convinced that they backfired, with high-profile Republicans such as Newt Gingrich calling Sotomayor a "racist" before walking it back.
"There was not one woman watching that hearing who didn't feel like she'd been in her shoes, in one way or another," said Maria Teresa Kumar, the co-founder of Voto Latino, which heavily campaigned for the Sotomayor nomination. "There was not one person of color who did not hear that dog whistle loud and clear."
Republicans in the Trump years built on that theory, using liberal opposition to both the Brett M. Kavanaugh and Amy Coney Barrett nominations to turn out votes and accuse the left of religious bigotry and say-anything slander. After Kavanaugh was confirmed, Republicans invoked the last-minute allegations against him to argue that staying home would allow the people who smeared the justice to take power.
Story continues below advertisement
"They did it against Justice Kavanaugh," read a piece of direct mail sent to Republican voters before a 2019 Supreme Court election in Wisconsin, warning that "the same radical out-of-state interest groups" were attacking their nominee, who won in an upset.
The Barrett confirmation fight was steeped in identity politics, with the future justice coming to Republicans' attention — and being added to the shortlist of Supreme Court nominees — after a disastrous round of questioning from Democrats when she was nominated to a lower court. After Sen. Dianne Feinstein (D-Calif.) told Barrett that "the dogma lives loudly within you," conservatives argued that her opponents were anti-Catholic bigots.
"Democrats know she's brilliant and principled, so their attacks on her faith will only get worse," thundered one ad from the Judicial Crisis Network, which spent tens of millions of dollars promoting Donald Trump's nominees.
Story continues below advertisement
At that moment, Senate Democrats — chastened by just how badly Barrett's previous confirmation was handled — were carefully avoiding any talk of her religion. Conservatives celebrated the history-making nature of the pick, and Democrats' unsuccessful strategy to stop her focused largely on how she would vote on abortion rights and the Affordable Care Act.
With no nominee yet, but a few known and vetted, Democrats are talking as proudly about putting a Black woman on the court as Republicans had talked about confirming its first Catholic mother. They're also watching some conservatives insist that any Black female nominee will be compromised, because no candidate of another race or gender was considered for the job.
"President Biden's quota is not about helping minorities," wrote Curt Levey, president of the Committee for Justice, a conservative judicial group, when the Breyer news broke. "It pits minority groups against each other, much like in the [college] admissions cases before the Court, where Asian American applicants are suffering the biggest disadvantage from race-based admissions. It is not clear why the Court needs a black woman more than its first Hispanic male or its first Asian or disabled appointee."
Story continues below advertisement
Democrats were caught flat-footed last year, after Republican attacks on race-based trainings or how race was discussed in classrooms helped them sweep Virginia's elections. But they think the GOP took the wrong lesson from that, and will apply to it a wildly different, personalized context, in which a Black woman with more experience on the bench than Barrett will be demeaned as an affirmative action pick.
"This would be a major bump for Joe Biden," said Quentin James, the founder of the Collective PAC, which spent money to boost Kristen Clarke's nomination to the Justice Department's Civil Rights Division after Republicans accused her of racism. Actress Rashida Jones narrated the PAC's ad, with a script saying it was "about time" for a Black woman to finally serve in that role.
"This is a fight that will excite Black voters," James added.
Story continues below advertisement
"Republicans just finished trying to tell the country their blanket opposition to voting rights wasn't about race," said Fallon. "For them to now pivot to opposing the first Black woman for the Supreme Court en masse is a vulnerability. We think that can be mobilizing to our supporters if they do that. We will try to make them pay a political price for it."
Reading list
"Democrats rejoice, Republicans cast any new Supreme Court nominee as radical as election-year fight begins," by Michael Scherer and Seung Min Kim
Why the president's party wanted this court battle.
"Governors enjoy cash deluge right before they face the voters," by Liz Crampton
Making it rain in a midterm year.
"Black and Latino voters have been shortchanged in redistricting, advocates and some judges say," by Colby Itkowitz and Harry Stevens
The interparty (and multiracial) battle over what should be considered in drawing seats.
A frivolous lawsuit or a movement to kick Trump off the ballot?
The president's supporters and their war with data.
"The bogus claim that school closures will doom Democrats," by Rachel M. Cohen
Does the polling back up the conventional wisdom? Does it ever?
"Tucker Carlson-fueled Republicans drop tough-on-Russia stance," by Jonathan Swan and Andrew Solender
Get used to this line: Democrats are more concerned with Ukraine's border than with America's.
Turnout watch
Democrats easily held on to a state House seat in Connecticut on Tuesday, after a low-turnout election that found Republicans improving in a place where they'd stopped competing years ago.
Hubert Delany, a 28-year-old Army veteran, won 56 percent of the vote in the 144th District, which starts in Stamford and covers a few towns to its north. That amounted to a 338-vote margin, out of 2,984 votes cast, over Republican Danny Melchionne, a 31-year-old respiratory therapist who had never run for office before.
Neither had Delany, who was endorsed by Stamford Mayor Caroline Simmons, the Democrat who had flipped the state House seat in 2014 and benefited from the GOP's Trump-era suburban collapse in New England. In 2020, Joe Biden carried the seat by 25 points, so Melchionne slashed the gap, but not enough to restore the seat to its pre-2016 competitiveness. Melchionne wooed working-class voters by arguing that high taxes and fees were dismantling their quality of life, telling the Stamford Advocate that taxes had created "a two-class demographic of the established superwealthy and lower-income residents, who have diminished opportunities to thrive."
Ad watch
Bob for Governor, "Agenda." When he ran for governor of Connecticut four years ago, business executive Bob Stefanowski's ads introduced him as a "conservative businessman" and "true outsider," and a narrator did most of the talking. The first spot of Stefanowski's 2022 campaign, part of a $1 million buy, portrays him a little differently, with a supporter saying the Republican has a "working class family," and footage of the Statue of Liberty illustrating how he's the "grandson of immigrants."
Stefanowski himself tells some voters that he "knows what it's like to start with nothing." Instead of a master of the universe, he's somebody who knows struggle, telling another group of voters that the state can "make it a little bit more affordable to drive your car to work, make it a little bit more affordable to buy groceries."
NRSC, "Senate Dems Voted Unanimously to Send Checks to Criminals Like the Boston Bomber and Larry Nassar." Last March, Sen. Bill Cassidy (R-La.) sponsored an amendment to the American Rescue Plan that would have prevented prisoners from receiving stimulus checks. Sen. Rick Scott (R-Fla.) had sponsored another amendment on the same policy, and Sen. Tom Cotton (R-Ark.) saw rich potential in getting Democrats, who were killing every Republican amendment they could, to vote no. "Get ready for campaign ads," Cotton tweeted. Here are the ads, straight-to-camera appeals from Scott, running in competitive states.
Poll watch
Georgia GOP gubernatorial primary (Quinnipiac, 666 likely Republican primary voters)
Brian Kemp: 43%
David Perdue: 36%
Vernon Jones: 10%
Kandiss Taylor: 4%
Catherine Davis: 1%
Quinnipiac's first look at the Kemp-Perdue primary is a nice reminder that it's not just between the Republican governor and the former senator. After more than a year of berating from Donald Trump, who unsuccessfully pressured Kemp to overturn his defeat in the 2020 election, Kemp's unfavorable rating among Republicans is 22 percent, and only 19 percent disapprove of the job he's doing. That's still relatively high — just 7 percent of Republicans view Perdue unfavorably. That suggests that one of Kemp's attack lines, that Perdue is a "loser" who put Democrats in charge of the Senate, hasn't moved voters the way it's moved political junkies.
Another challenge for Kemp: Plenty of Republicans who are happy with how he's doing are willing to replace him. The Jones, Taylor, and Davis campaigns got less attention after Trump endorsed Perdue, but all of them echo Trump's outrage that Kemp didn't find some way to deny Joe Biden the state's electoral votes, after he won the 2020 election. Fifty-one percent of Republicans say they could support one of Kemp's challengers.
"Are these people, or groups, concerned with looking out for the economic well-being of average Americans?" (Monmouth, 794 adults)
President Joe Biden
Very concerned: 30%
Somewhat concerned: 22%
Not really concerned: 47%
Republicans in Congress
Very concerned: 20% (+3 since August 2018)
Somewhat concerned: 37% (-2)
Not really concerned: 42% (+2)
Democrats in Congress
Very concerned: 23% (+1 since August 2018)
Somewhat concerned: 31% (-7)
Not really concerned: 47% (+12)
One of the most revealing question pollsters ask about candidates is: Do they care about people like you? The 2020 exit polls found Biden basically even with Donald Trump on the "people like you" test; four years earlier, voters said that they trusted Hillary Clinton over Trump on the question by 23 points. Trump gained ground while president, and Biden has been losing it, as more voters (including 52 percent of non-Hispanic White voters) agree that Democrats are "not really concerned" with their issues.
Which issues? They're not defined here, but plenty of recent polls have found Democrats enjoying the broadest support on the issues voters are least concerned with. This month's Pew Research Center survey found Democrats with considerable leads over the GOP on handling climate change and health care. Far more voters were concerned with the economy, and they favored Republicans.
Redistricting
As it was adding seven more incumbents to its "front line" of competitive races, the Democratic Congressional Campaign Committee was urging the party in New York to draw Republicans into as few seats as possible — three out of 26.
In a memo aimed at Democrats who control the state legislature, DCCC Chairman Sean Patrick Maloney, who represents a suburban swing seat in the Hudson Valley, broke down 26 potential districts, arguing that protecting "communities of interest" could mean substantial changes to a map that was drawn, in 2011, before Democrats won full control of the state government.
A few seats would be triaged, and easy for Republicans to win, while most of the districts now held by the GOP would become districts that backed Joe Biden in 2020. (Biden only carried one current district represented by a Republican, the Syracuse-based 24th Congressional District.) One example: The 11th Congressional District, which contains all of Staten Island and a Democratic-leaning part of Brooklyn, would be redrawn into Manhattan, capturing overwhelmingly Democratic precincts, and turning it from a Trump seat into a Biden seat.
"These communities are connected by their shared interest in combating climate change and mitigating damages from natural disasters and rising waters," Maloney argued.
Rep. Nicole Malliotakis (R), who flipped the seat in 2020, scoffed at the plan.
"To entertain a map drawn by Nancy Pelosi's chief campaign operative and head of a DC organization focused on only electing Democrats to Congress is highly inappropriate, defies the will of New York's voters and is a direct assault on the state constitution," Malliotakis said in a statement. "They know they can't win on policy, merit, or debate so this is a desperate attempt to tilt the scale to give Democrats an advantage."
In Missouri, Republicans and Democrats in the state Senate teamed up to advance a map that maintains the state's current delegation — six districts that favor Republicans, and two, based in Kansas City and St. Louis, that are safe for Democrats. Seven Republicans voted with two Democrats, and had those Democrats voted no, Republican "no" votes would have led to a deadlock.
Why? One wing of the Missouri GOP wants to ditch this map and draw one that would leave Democrats with just one safe seat, in St. Louis, instead of using the process to shore up the 2nd Congressional District for Rep. Ann Wagner (R). That idea is backed by conservatives such as former governor Eric Greitens, now a candidate for Senate, and it isn't dead yet.
Q&A
Former Ohio congressman Jim Renacci (R) is running for governor this year, after his 2018 defeat by Sherrod Brown (D) in a Senate race briefly ended his political career. While he was considering his next steps, Renacci took a role on the Medina County Board of Elections, which he credits with clarifying his views on how elections should be reformed.
Ohio's 2020 count was fast — a victory for Donald Trump that Democrats didn't challenge. And routine audits after the 2020 election found that ballots had been counted with 99.9 percent accuracy. What did Renacci learn? He got on the phone with The Trailer to talk about it.
The Trailer: So, why did you join the election board?
Jim Renacci: I asked the Medina County board of the Republican Party to nominate me. That's the way it works in Ohio. Two Republicans and two Democrats in every county get nominated and appointed by the secretary of state to the Board of Elections. So I asked to be appointed when an opening came up, which was February 1st of last year.
My goal, really, was to sit through a minimum of two elections, see what goes on, and make sure that I totally understood how the system works so that I could better answer a question about it. Understanding how the system works, understanding what the potential flaws are, and really taking a businessman's, a CPA's, an auditor's perspective.
TT: What's something you picked up, by doing this, that you didn't know before?
JR: I didn't realize that all of the machines in Ohio do not have Internet capability; all the election machines, which I think is important. The other thing I learned was that no documentation gets moved. Everything goes from polling places to the Board of Elections, and there has to be a Republican and Democrat with separate keys who open up the data, who control the data. And those two people stay together all the way to the Board of Elections.
Some people say: Well, anybody can attack the system. But the only way to attack the voting numbers, if the machines are not Internet-capable, is that once those keys gets to the Board of Elections, it downloads it onto their system, which is only tied into the secretary of state's system. That's the only place that there could be an outside attack.
In Ohio, we actually have a separate board called the Board of Machine Examiners, who literally set the standards for those machines, determine what the machines can do or can't do. One of those things is that they cannot be Internet-compatible. They also hire an outside consultant who confirms all of that. So, there's a second backup test that makes sure that these machines do not have Internet capability. And everything in Ohio has a Republican and a Democrat supervising. Yes, I guess you can say there could be collusion between Republicans and Democrats on some specific issue or person. But having a Republican and Democrat counterpart does allow for observation and oversight from both parties to make sure the system the system is operating properly.
TT: Based on your experience, how would a "forensic audit" work? There's always a canvass after an election, and recounts in close race, but the large-scale audits we saw last year took months — more time than you get between an election and the winner taking office.
JR: As a board member, you have to accept results. There's a Republican and Democrat inside the system that come to the board and says: We recounted the vote, we re-tallied it, and this is what we came up with. You either affirm that as a board member, or disagree with what they're saying, and you have a discussion.
Now, I was an auditor. What I'm asking for is that at least every four years, you actually have somebody from the outside come in and do a forensic audit, which actually tests this work. That doesn't mean you have to count every ballot. Sometimes you test the work done by the internal audit. A forensic audit doesn't mean you count every vote. It means you do random samples. If you find errors, you increase your samples. Those are the things that you would do in a real live audit by an outside CPA firm in the real world.
TT: Is it feasible for people to go door to door, asking people if ballots cast in their name were cast by them, as part of those audits?
JR: I think you do that as part of your audit, your outside audit. Remember, if you think about it, you send out confirmations, you confirm addresses with votes. You don't need a group of citizens to do that, you can actually test that. That might be one of the procedures. The auditors randomly select, you know, 10 addresses or 100 address or whatever, and they go out and they check. I think that should be part of an overall forensic audit.
TT: In 2004, after George W. Bush won, some Democrats suggested that the election was stolen and demanded more investigations of the machines. Did you think those concerns were valid?
JR: I don't remember the concerns in 2004. Until my car dealership was taken away in 2009 and 2010, I was a voter, but I was also more of a father and a businessman trying to make ends meet. So, I wasn't paying as much attention to this in 2004. What happened in the past? I think we need to fix for the future.
TT: Was the 2020 election result in Ohio valid?
JR: I'll respond the same way that President Trump responded. He thought Ohio was fine. I think that Ohio, based on what I learned, appears to be okay. But do I think there were problems elsewhere? Absolutely. Ohio is one of the better states. We want our states to be able to have an election integrity. We, as Ohioans, need to always make sure that Ohio's results were accurate. I would trust what President Trump said about Ohio, and he felt Ohio was fine.
In the states
Ohio. Former state senator Nina Turner launched another campaign for Congress on Wednesday, nearly six months after losing the special election for Ohio's 11th Congressional District to Rep. Shontel Brown (D). Turner, who raised $5.5 million for her last run in the Cleveland-based seat, told WKYC that a midterm primary with "lots of races" to turn out for gave her a better chance to win.
"I believe that I was the better candidate in 2021," Turner told NBC News reporter Henry Gomez, "and that has not changed."
Turner's campaign raised more than $100,000 from that announcement to the end of the day, comparable to the best fundraising days in last year's election — such as the day Hillary Clinton endorsed Brown. She tapped Nashville-based strategist Kara Turrentine to manage the campaign, passing over her 2021 campaign manager Shirley Turner.
Wisconsin. Marine veteran Kevin Nicholson jumped into the Republican primary for governor, shortly after Republican donor Richard Uihlein pledged his "full support" if the former U.S. Senate candidate challenged former lieutenant governor Rebecca Kleefisch.
"Our state and our society are being torn apart by a shameless and ineffective political class whose leadership failures have destroyed businesses and crushed Wisconsin's economy," Nicholson wrote in a column for a conservative state news site. "We can't take Wisconsin to new heights if we elect a Governor from the same, tired political class that lacks the vision, ability, and will to fight for the future of our state."
In 2018, Nicholson ran for the GOP's U.S. Senate nomination, losing an expensive primary to then-state Sen. Leah Vukmir, with Uihlein and other donors putting nearly $8 million into supportive PACs — more than Vukmir raised for her challenge to Sen. Tammy Baldwin (D).
California. Los Angeles City Council member Mike Bonin dropped his reelection bid on Wednesday, just days after a campaign to recall him fell short on signatures. He made the announcement in a nearly 10-minute video, explaining that he'd "struggled with chronic depression for a very long time" and needed time to "recharge" outside of politics.
"For those of you who are disappointed, I'm sorry," Bonin said.
It was a quick reversal from the victory over the recall campaign, which got organized over Bonin's approach to homelessness in the city's Westside. Bonin's effort to convert a Ramada Inn to transitional housing, and his vote against a council bill that restricted where the homeless could set up tents, had powered the effort to unseat him, and he was facing multiple challengers in June. Last summer, when L.A. County Sheriff Alex Villanueva cleared camps along the Venice boardwalk, he said he was responding to the "failures of local politicians in regard to the homeless crisis," and candidates for mayor and governor visited Venice to back him up.
Wait, what?
Kari Lake left the news business to run for governor of Arizona, but old habits die hard.
"Breaking news!" the Trump-endorsed Republican tweeted on Tuesday night. She linked to the Gateway Pundit, a conservative website reporting that the Wisconsin Assembly had just voted to withdraw the state's 2020 electoral vote for Joe Biden. "Arizona should be next!"
The Wisconsin Assembly hadn't withdrawn anything. In December, Rep. Timothy Ramthun introduced Assembly Joint Resolution 120, which compiled 13 sometimes-overlapping allegations of fraud or illegal election violations in 2020.
Ramthun cites unnamed "data experts" who argue that it was statistically impossible for Trump to lose the state, then cites and names the expert who argued this before the Assembly's elections committee last month. The fact that "over two-thirds of Wisconsin Republicans have no faith in the Elections Commission" also makes it in, as a reason to "reclaim" the state's 10 electoral votes from Biden and Vice President Harris.
The resolution attracted no co-sponsors, and the assembly is not empowered to throw out the election result. Days earlier, Assembly Speaker Robin Vos, a fellow Republican who had approved a special probe into the election, had punished Ramthun for putting "boldfaced lies" in official documents from his office, accusing colleagues of being complicit in election theft, in statements from his government office.
But on Tuesday, Ramthun took the floor in Madison and said he had "a resolution to present to the chief clerk." He walked it to the front of the chamber, and the clerk read the title: "Relating to Wisconsin election reform and reclaiming the electoral ballots for President and Vice President that were certified under fraudulent intent and purpose."
This was immediately referred to the Rules Committee, and the assembly moved to a vote on an unrelated bill, after a brief interruption when Ramthun moved to suspend the rules. Majority Leader Jim Steineke, the chair of that committee, quickly dismissed the resolution as a stunt.
"Not only is it illegal, it's just plain unconstitutional," he tweeted. "As chair of the Rules Committee, there is ZERO chance I will advance this illegal resolution."
Steineke said that hours before Lake shared the Gateway Pundit story, which went viral after she shared it.
Countdown