Low blows and a Royal snub: Struggling French left bemoans 'ugly' campaign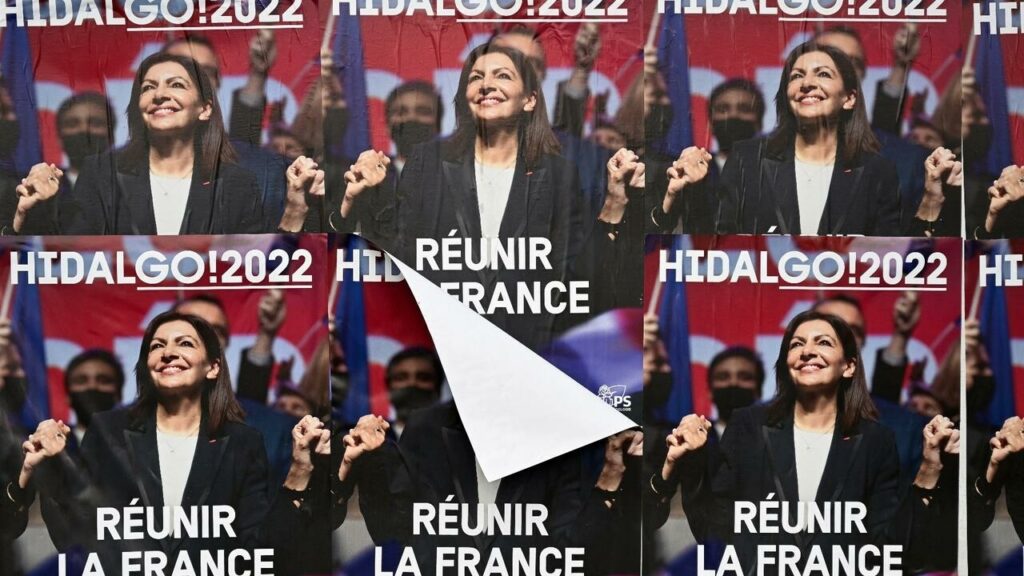 Paris's Mayor Anne Hidalgo, the Socialist candidate for the French presidency, has lamented an "ugly" campaign for the Elysée Palace dominated by mud-slinging and the revanchist, anti-immigrant rhetoric of the far right. She might just as well have been referring to the tribulations of her equally struggling left-wing rival Christiane Taubira, whose campaign team has accused the Socialists of attempting to push her out of the race.
Advertising Read more
Hidalgo, whose once mighty Socialist Party is battling for survival, is languishing at the back of a crowded field of candidates vying for the Elysée Palace. She suffered another blow this week when her party's former presidential nominee Ségolène Royal said she would back another candidate, Jean-Luc Mélenchon, in the April presidential election.
Mélenchon, the head of La France insoumise (France Unbowed, or LFI), is the only left-wing candidate to reach double-digits in voter surveys, giving him an outside chance of challenging President Emmanuel Macron and a trio of presidential hopefuls from the right. Hidalgo, on the other hand, has seen her support slump to as little as 2 percent.
"It is obvious that the only 'useful' vote on the left, is the Mélenchon vote," Royal told BFMTV on Wednesday, describing the leftist firebrand as "the strongest" candidate and the one leading "the best campaign". Referring to Hidalgo, she added: "If I were in her place, I'd give up."
French presidential election © France 24
Far from being a "useful" vote, the Mélenchon ticket is merely a protest vote, Hidalgo fired back the next day in an interview with the same channel. Mélenchon's programme "is not the platform of a left that actually wants to govern", she said. "His mission is to ensure the Socialist Party disappears. It's an obsession."
In a separate interview, the Paris mayor expressed her "shock" at being ditched by Royal, whose own presidential bid in 2007 was famously hampered by back-stabbing in the Socialist camp. Others in the party were quick to round on the former nominee, stressing her past volte-faces.
"I'm not sure Ségolène Royal is the right compass to follow," Olivier Faure, the Socialist Party leader, told France 2. "Only a few days ago she said she could support [conservative candidate] Valérie Pécresse. Five years ago she backed Emmanuel Macron in the first round. And three years ago she wanted to campaign with [Green candidate] Yannick Jadot in European elections."
He added: "Of course, we can join forces with Mélenchon on some subjects. But I am neither a populist nor a sovereignist – and that's why my candidate is Anne Hidalgo."
Thwarting Taubira
Even as they lament disloyalty in their own ranks, Faure and Hidalgo face accusations of foul play coming from another struggling candidate and erstwhile ally, Christiane Taubira, the former justice minister who threw her hat in the ring in January in a desperate – and unsuccessful – bid to unite France's fractured left.
Taubira, who won a "people's primary" shunned by others on the left, including Hidalgo, is also languishing in the low-single digits, according to opinion polls, just ahead of the Paris mayor. But right now, she faces a more urgent problem: collecting the endorsement, or parrainage, of 500 officials – mayors, lawmakers or local councillors – required to run in a presidential election.
All presidential hopefuls have until March 4 to collect the precious signatures and have them validated by France's Constitutional Council. As of Thurday, when the latest official count was released, Taubira was stuck at 86 and fast running out of time.
>> Explainer: Why are 500 signatures required to run for president of France?
The battle for parrainages is one race where Hidalgo has performed well, aided by the Socialist Party's last great asset: its ample reservoir of local officials. She already has 1,074, the third largest tally, and is not planning on gifting Taubira a single one.
According to Taubira's campaign, the Socialists have been lobbying officials not to lend her their parrainage – an allegation Faure's party has made little effort to deny.
The alleged sabotage campaign has focused on the smaller Parti radical de gauche (Left-wing Radical Party, or PRG), whose leader abruptly withdrew his support from Taubira earlier this week. As the investigative and satirical weekly, the Canard enchaîné, noted on Wednesday, PRG officials are well aware that "they owe their seats in large part to electoral agreements with the Socialists".
"Taubira is effectively being locked out of the race for parrainages – and Hidalgo's team is not even hiding it," Christian Paul, Taubira's strategist and a former Socialist MP, told Le Monde on Thursday. "Never before have I witnessed a campaign in which left-wing candidates spent this much time stabbing each other instead of fighting the right and the far right."
'A lousy spectacle'
Hoping to inject much-needed momentum into her flagging campaign, Taubira this week challenged far-right candidate Eric Zemmour to a televised debate. Her offer signalled a change of strategy for the former justice minister, who had previously been reluctant to even name the sulfurous media pundit.
"I feared that a debate with [Zemmour] would in some way legitimise his views," she said of the far-right polemicist, who has two convictions for racial hate speech and is appealing a third. "But I have changed my mind after talking to people on the campaign trail."
Generation Z: The French far-right youth group carrying Zemmour's message 02:25
In recent months, Mélenchon has twice faced the far-right candidate in ill-tempered TV debates. His acceptance of the challenge has underscored Zemmour's ubiquity in a campaign largely dominated by the far right's agenda.
>> French left in disarray as right, far right dominate presidential campaign
Taking on Zemmour in televised tussles – his own favourite arena – is a mistake, Hidalgo told Le Parisien on Thursday, in a dig at both Mélenchon and Taubira. She lamented an "ugly, vulgar, violent" campaign, in which "the real concerns of the left are not given consideration".
According to voter surveys, healthcare, the cost of living and the climate emergency – all topics dearest to the left – regularly top the list of French people's concerns. And yet it is the far right's preferred topics, such as Islam, immigration and crime, that attract most coverage.
"All other candidates rush to debate with Zemmour in the hope of scraping a little notoriety," Hidalgo said. "A presidential election should not be a sorry and sickening spectacle like this one – a lousy spectacle with lousy actors in every role."
Daily newsletterReceive essential international news every morning Subscribe