At the Smithsonian, a showcase of Persian art and textiles that steal the spotlight from carpets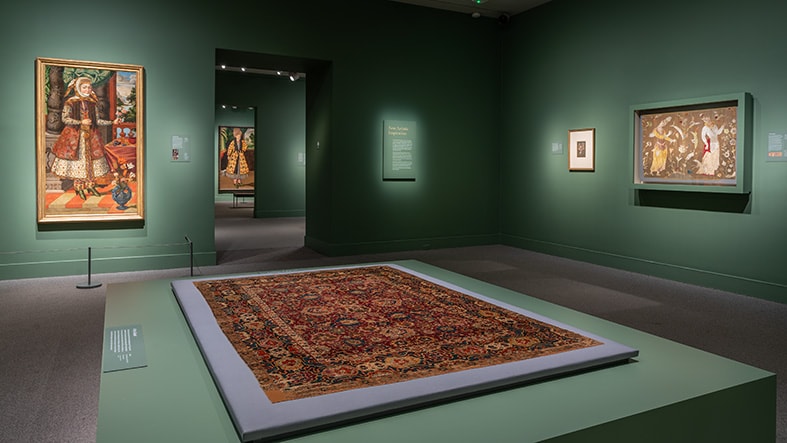 The exhibition "Fashioning an Empire: Safavid Textiles From the Museum of Islamic Art, Doha" at the Arthur M. Sackler Gallery focuses primarily on these other types of textiles, featuring some splendid, nearly one-of-a-kind pieces that make the two large carpets on display — as well-executed as they are — seem almost commonplace by comparison.
The Safavid dynasty (defined by the Sackler as 1501-1722), which takes its name from the Safavid order of Sufism, saw a flowering of art, culture and architecture, particularly under its most powerful ruler, Shah Abbas I. Textiles were not merely a manifestation of this artistic outpouring, but a main driver of it, as Abbas developed silk into one of the empire's most lucrative exports.
Story continues below advertisement
"[Silk] textiles were sort of the gold of the period, the oil of the period. Their production, their export, both East and West, opened up tremendous possibilities," says curator Massumeh Farhad. "It really put Iran on the global scene economically."
Abbas achieved this economic success in part through forcibly moving the established Armenian trading community of Julfa (in what is now Nakhchivan, an exclave of Azerbaijan) to New Julfa, a suburb of his new capital Isfahan, where the Armenians were then given a monopoly on the overland trade in silk. Meanwhile, Portuguese merchants, as well as the Dutch and English East India companies, competed for dominance in the sea trade through the Persian Gulf. The profits from silk in turn funded much of the imperial architecture for which Isfahan is famous.
The exhibition brings alive the cosmopolitan world that emerged in Isfahan thanks to these far-flung networks, showing how trade introduced luxury goods and tastes from Europe and Asia. It also influenced the development of Safavid carpets, as designs were simplified over time to increase production for export.
Story continues below advertisement
Particularly fascinating are three full-length oil portraits from 17th-century Isfahan showing typical members of the elite. A man thought to be either a European diplomat or an Armenian or Georgian merchant appears as a fashionable dandy, with an imposing head wrap, ermine collar, elaborately patterned coat laid over a striped robe (multiple layers of fabric showed the wearer's status), bright green ankle boots and a cane. Dressed in similar garments, an Armenian woman stands surrounded by luxury European goods, including a classical vase and a Venetian wine glass, before a backdrop heavily inspired by Western painting aesthetics.
The stunning silk panel "To the Hunt," a rare example of its kind, portrays two women dressed in elegant European and Safavid-style clothing, accompanied by two hunting dogs, amid a whimsical scene of stylized leaves and flowers that predate Art Nouveau by centuries. Although the lush velvet has faded over time, it still has an incredible sheen, and is best viewed from multiple angles to see details such as the faint outline of a falcon perched on one woman's hand.
"Iran was the only country [in the region] that produced these large-scale figurative textiles," Farhad says, given the preference for abstract designs in some other Muslim cultures, where figurative images were less prevalent. Besides people and dogs, other pieces feature such birds as peacocks and pheasants.
The works here are almost entirely secular, with the exception of a beautiful multicolored silk tomb cover bearing Koranic verses and religious inscriptions — significant, in part, because it was under the Safavids that Shiite Islam became the state religion.
The oil paintings and almost all of the textiles have been loaned from the superb collection of the I.M. Pei-designed Museum of Islamic Art in Doha, Qatar. They are complemented by a number of Persian miniature-style watercolor paintings and manuscript works on paper, drawn from the collections of the Smithsonian's Freer and Sackler galleries, which provide context for how people dressed and the many uses of textiles in daily life besides as clothing. In some scenes, fabric forms temporary tent encampments outside towns, where denizens sit on cloth furnishings — carpets and cushions whose spatial arrangement was also used to establish social hierarchy.
Story continues below advertisement
Though lacking the narrative elements of the paintings and figurative textiles, some of the decorative pieces are the most striking. These include silk brocades in floral or more abstract medallion patterns that were made with shiny silver or gold thread, which even now retains some of its luster, although the gilding has considerably worn down over time. Such fabrics, which were stiff and heavy from the gilded thread, would also have caught the light and made a sound as the wearer moved, thus engaging several senses.
While Safavid carpets may have been the envy of the world, "Fashioning an Empire" shows that these brilliant smaller textiles deserve their share of the spotlight, too.
If you go
Fashioning an Empire: Safavid Textiles From the Museum of Islamic Art, Doha
Arthur M. Sackler Gallery
Dates: Through May 15.