Taliban Takeover in Afghanistan Stokes Bangladesh's Terrorist Fears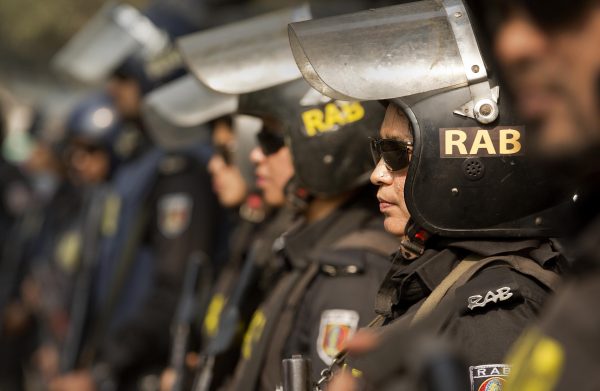 The secular government of Muslim-majority Bangladesh fears the Taliban takeover in Afghanistan will rejuvenate the violent radical Islamist ecosystem back home.
For Bangladesh, August is a month of mourning and a grim reminder of the looming threat of radical Islamist terror.
On August 15, 1975, a military coup led to the assassination of Bangladesh's founding father, "Bangabandhu" Sheikh Mujibur Rahman, along with much of his family. The military rulers who took over and ruled Bangladesh for the next 15 years legitimized the pro-Pakistan Jamaat-e-Islami, introduced constitutional amendments that undermined the country's secular democratic polity, and finally declared Islam as the state religion of Bangladesh.
On August 21, 2004, Mujibur's daughter Sheikh Hasina, then opposition leader and now prime minister, barely survived a grenade attack on her rally. The attack left 24 Awami Leaguers dead and more than 500 injured. One of Hasina's bodyguards, Mahbubur Rashid, was killed.
The 1975 coup was led by disgruntled junior army officers, but the 2004 grenade attack was carried out by Islamist Harkat ul-Jihad al-Islami (HUJI) militants .
A Dhaka court verdict on the attack held senior functionaries of the Bangladesh National Party (BNP)-Jamaat-e-Islami coalition, including Tarique Rahman, responsible for using the HUJI jihadis to wipe out the top Awami League leadership. Rahman is son of Bangladesh's first military ruler, Ziaur Rahman, and twice Prime Minister Begum Khaleda Zia and is now the acting chairman of the Bangladesh Nationalist Party (BNP).
Enjoying this article? Click here to subscribe for full access. Just $5 a month.
Prime Minister Sheikh Hasina, in power since 2009, has ruled Bangladesh with a "zero tolerance to terror" policy, particularly following the 2016 terror strike on an upscale Dhaka restaurant that left 23, including 18 foreigners, dead. Her government has controlled the radical Islamist ecosystem with some tough policing, often triggering Western criticism over human rights violations.
Despite these efforts, over the last two years, the radical Hifazat-e-Islam, which controls a huge network of Qaumi madrassas (seminaries), unleashed a series of violent street protests — first over the installation of Mujibur Rahman's statues as "un-Islamic," then over the French anti-Islamist crackdown after the Paris beheadings, and finally over Indian Prime Minister Narendra Modi's Bangladesh visit. Government offices, business establishments, and public transportation were set on fire. The mayhem was controlled by firm police action and large scale arrests of Hifazat leaders.
Diplomat Brief Weekly Newsletter N Get briefed on the story of the week, and developing stories to watch across the Asia-Pacific. Get the Newsletter
Like the Taliban, the Hifazat-e-Islam leaders oppose women's empowerment and demand the enactment of blasphemy laws and a Shariah-driven polity. They are in stark opposition to Hasina, who has restored much of her father's secular dispensation and touted economic growth, gender empowerment, and protection of minorities.
"It is a radical Islamist ecosystem we are up against," Awami League's women wing leader Ayesha Zaman Shimu said in an interview. "They are out to destroy the spirit of our great liberation war. It is fight that never ends and demands eternal vigilance."
Outraged by the Hifazat activists setting fire to a music academy operating out of the ancestral house of the great musician Allauddin Khan in her native Comilla region during the Modi visit protests, Shimu exposed the radicals on social media with explicit photos of child sex abuse in Hifazat-run madrassas. "They abused me in unbelievably filthy language. I just asked them to pull up their pajamas," she said.
"The Hifazat has enjoyed support from the Islamist parties like BNP and Jamaat-e-Islami, many of whose leaders are on the Hifazat's national committee now. They have strong links to Islamist terror groups like Harkat Ul Jihad al Islami (HUJI) and Jamaat ul Mujahideen Bangladesh (JMB)," said a senior Bangladesh intelligence official on condition of anonymity, because he was not authorized to speak to the media.
Speaking on the 17th anniversary of the 2004 grenade attack on her rally, Hasina blamed the BNP-Jaamat coalition for sponsoring terrorism. "Whenever they came to power, they conspired to make Bangladesh a failed state by backing terrorists," she charged.
Notably, HUJI Bangladesh was led by some local veterans of the Afghan jihad, hardline Islamist clerics who fought against the Soviets in the 1980s with the mujahideen. These fighters then returned to Bangladesh, seeking to turn their homeland into an "authentic" Islamist country ruled by Shariah laws.
The Taliban's return to power in Afghanistan has thus sparked fears of history repeating itself in Bangladesh. Dhaka has carefully reacted to the Taliban takeover in Afghanistan, but its worries as the world's third largest Muslim-majority nation are evident.
"Bangladesh is carefully observing the fast evolving situation in Afghanistan, which we believe, may have an impact on the region and beyond," the country's foreign ministry said in a statement.
Enjoying this article? Click here to subscribe for full access. Just $5 a month.
"Bangladesh believes that a democratic and pluralistic Afghanistan as chosen by its people is the only guarantee of stability and development in the country," the statement added.
Just before the Taliban entered Kabul, a senior Bangladesh police official told the media that some Bangladeshis were trying to reach Afghanistan after the Taliban's call to "join them in the war."
"Some of our people have already left Bangladesh to join the Taliban… we are told some of them were detained in India while some were trying to reach Afghanistan in different ways," said Dhaka Police Commissioner Shafiqul Islam.
Bangladesh intelligence officials say they have reports of Islamist radicals trying to "reactivate their outfits," which were crippled after severe crackdowns following the 2016 terror attack in Dhaka. Authorities are trying to detail profiles of Bangladeshi radicals who may have fought with Taliban in Afghanistan and may now return home, as in the 1990s, as well as also those who may be seeking to travel to Afghanistan now.
"It is a long exercise but one we can overlook only at our own peril," a senior Bangladesh intelligence official said, again on condition of anonymity.
Security analyst Major General (Retd.) Muniruz Zaman was quoted by Dhaka media as saying the changeover in Afghanistan would definitely impact Bangladesh and "we have reasons to be worried."
Part of that worry stems from the jubilant mood among the country's radical Islamists. Many of them are taking to social media to call for a "Taliban-type struggle to oust the Murtad (apostate) government of Sheikh Hasina." This writer monitored 17 such Facebook posts within hours of the fall of Kabul, but the posts were taken down within hours, ostensibly under government pressure.
"These posts are positively provocative, but our government is capable of handling Islamist radicalism and terror. We have done that in the past, but there is no room for complacency," said former junior Telecom and Information Minister Tarana Halim.
"The Taliban takeover will boost the morale of some radicals, but they don't have much support in Bangladesh. As a feminist, I am more worried for my Afghan and Pakistani sisters," Halim said in an interview.
India's leading Bangladesh watcher, Sabyasachi Basu Ray Chaudhury, said "both Bangladesh and India will have cause for worry" about the situation in Afghanistan. "The Taliban takeover is a huge morale booster for all Islamist radical forces, so both India and Bangladesh have to fight the threat of radicalism together," he said.
Former Indian Foreign Secretary Krishnan Srinivasan said the "expected apprehensions" in India and Bangladesh were understandable, but he pointed to the success of both Delhi and Dhaka in fighting terror and developing economically.
"The Taliban takeover is unlikely to make a material difference," he said in an interview, insisting that India and other governments have to deal with the Taliban. "Keeping them at arm's length for fear of terror will only be counterproductive."
Indeed, there are reports that India has begun engaging with the Taliban for the first time. But Bangladesh's government seems more cautious, worried that any outreach to the Taliban might boost the radicals back home.