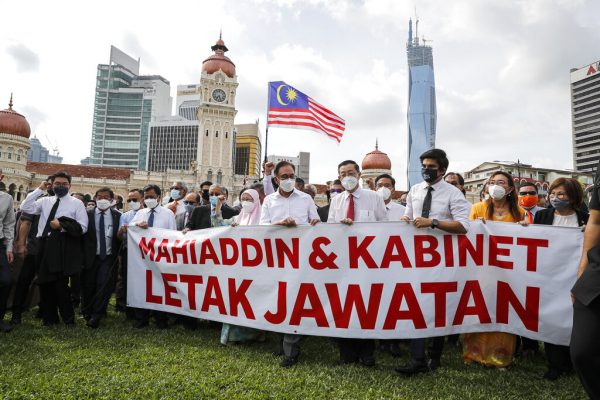 Prime Minister Muhyiddin Yassin's desperate attempt to hold on to power threatens to shake the country's democratic system to the core.
Malaysian opposition members Anwar Ibrahim, fourth from left, and Mahathir Mohamad, second from left in blue mask, hold a banner reading "Muhyiddin and Cabinet resign" during a protest in Kuala Lumpur, Malaysia, Monday, August 2, 2021.
Malaysia plunged deeper into political crisis on Monday as Prime Minister Muhyiddin Yassin tightened his grip on power by suspending parliament and deploying riot police officers to keep opposition lawmakers out of the legislative building.
Police shut down all roads leading to parliament in the capital Kuala Lumpur, setting up barricades as far as two kilometers away from the main gate, while a water cannon truck waited to be used ahead of a planned gathering by opposition MPs.
Dozens of opposition lawmakers, including People's Justice Party chief Anwar Ibrahim and former two-time premier Dr. Mahathir Mohamad, assembled at Merdeka Square instead after they were denied entry into parliament, demanding Muhyiddin's resignation.
"This government has failed to carry out its duties but is continuing to cling to power," Anwar said. Apart from the government's failure to tackle the pandemic, he said that Muhyiddin has also abused his power to circumvent parliament and go against the king's decree in revoking the emergency ordinances.
Anwar also claimed that Muhyiddin's Perikatan Nasional (PN) administration had fallen as a result of the fact that the embattled leader had lost majority support.
Enjoying this article? Click here to subscribe for full access. Just $5 a month.
"In terms of the numbers of MPs, the Muhyiddin government has fallen, and I have information that there are other parties that presented a list requesting to leave PN. Therefore, with the 107 MPs here, plus them, the government has fallen," he claimed.
Mahathir, who stood alongside Anwar, echoed the latter's call. "Even when people condemn Muhyiddin, he remains shameless and refuses to step down," said the 96-year-old statesman, whose sudden resignation last year paved the way for Muhyiddin coming to power in March 2020.
Diplomat Brief Weekly Newsletter N Get briefed on the story of the week, and developing stories to watch across the Asia-Pacific. Get the Newsletter
Opposition lawmakers then marched to the parliament building chanting "Step down, Muhyiddin" but were blocked by a wall of riot police armed with shields and batons who threatened arrests. Anwar made a short speech before the group peacefully dispersed.
Police later said all 107 MPs will be called in for questioning to assist in their investigations.
Malaysia's parliament reconvened for the first time last week after a seven-month suspension, due to a nationwide state of emergency, the first in over 50 years, intended to control the spread of the disease. Critics have denounced the emergency as a ploy for Muhyiddin to cling to power with a slim majority, and the COVID-19 situation in Malaysia has only worsened since the state of emergency was declared in January, fueling public anger.
Malaysia has the highest per capita infection rate in the region, according to Our World in Data tracker, with total infections surpassing 1 million. Deaths due to the coronavirus have also risen steeply to over 9,000.
The special parliamentary sitting, which was scheduled to run for five days from July 26 until August 2, was cut short after the king on July 29 made a rare rebuke of the government for incorrectly implying that the monarch had assented to revoking emergency laws.
The monarch had asked for the revocation of ordinances on the pandemic to be debated in parliament and was "deeply disappointed" it wasn't carried out.
The Muhyiddin administration almost immediately suspended the special parliamentary sitting, citing COVID-19 infection risks after cases were detected in the building.
The health ministry said parliament was deemed a high-risk venue and a "super-spreader" event could erupt if the sitting was not postponed. The opposition has described the COVID-19 risk as an "excuse" for Muhyiddin to dodge efforts to unseat him.
Enjoying this article? Click here to subscribe for full access. Just $5 a month.
Health groups insist that any decision to adjourn parliament must consider science and public health in apolitical terms. They further noted that the majority of MPs have been vaccinated.
University Malaya Medical Centre occupational physician Dr. Victor Hoe and epidemiologist Dr. Sanjay Rampal said parliament can still function, like many other essential workplaces, if strict protocols are followed.
Muhyiddin has so far succeeded at evading recurring attempts to topple his unelected government. Up until now, the PN administration could claim it had the backing of the monarch, crucial not only to the coalition's Muslim-Malay credentials but also to its survival.
As Muhyiddin's clash with the king continues, his arrogance could prove to be his downfall.