Israel threatens Gaza with ground attack amid air strikes: Live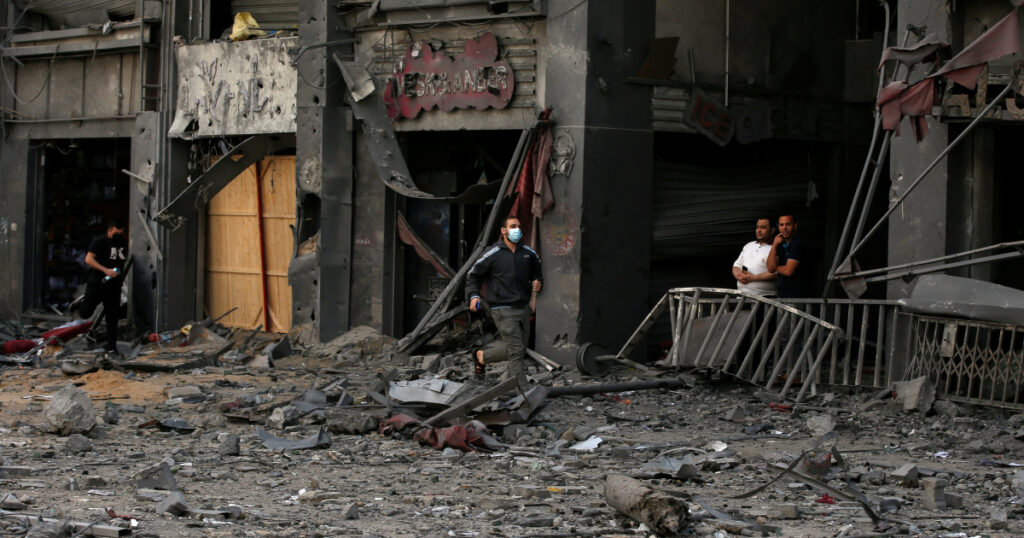 Death toll in Gaza rises to 113, health authorities say, as Israel boosts troops and tanks near the besieged Palestinian enclave.
Israel continued on Friday to bombard Gaza Strip with air strikes and artillery shells, ignoring international calls for calm, as it stepped up the deployment of troops and tanks near the besieged Palestinian enclave.
Al Jazeera's Safwat Al Kahlout, reporting from Gaza, said that as of 00:10 GMT on Friday, Israeli troops are massing at the border, but contrary to several news reports, there is no ground offensive taking place.
"A ground operation needs a lot of preparation, needs a lot of troops," he said, noting that it is likely that there is not yet enough number of tanks, artillery and troops to enter Gaza.
In a separate statement, the Israeli army also denied that the ground offensive has started.
Kahlout also reported that the bodies of a woman and her three sons, who were killed in an Israeli air strike, have been retrieved in the northern part of Gaza.
As for Friday morning, the latest death toll has risen to 113, including at least 31 children. At least 600 people have been wounded.
Palestinians marked the first day of the Eid al-Fitr religious holiday on Thursday under relentless aerial bombardment.
At least six Israelis and one Indian national have also been killed. The Israeli army said hundreds of rockets have been fired from Gaza towards various locations in Israel and they have added reinforcements near the enclave's eastern lands.
There have also been more violent confrontations between Jewish Israelis and Palestinian citizens of Israel in several cities inside Israel.
In another potential escalation, at least three rockets were fired from southern Lebanon towards Israel.
Here are the latest updates:
14 May 2021 – 06:11 GMT
Boy injured in West Bank during clashes between settlers, Palestinians
Safa Press agency is reporting that one boy was injured on Friday morning following clashes between Palestinians and settlers in the village of Nabi Saleh in the West Bank.
The report said that the boy was hit in the thigh with a stray bullet.
Clashes have been going on between West Bank residents and Israeli settlers since last night.
14 May 2021 – 05:27 GMT
Hamas leader calls for demonstrations on Friday
Hamas leader Ismail Haniyeh urged Palestinian citizens across the occupied territories and in Israel to go out and demonstrate on Friday, the second day of Eid al-Fitr.
New Press website quoted Haniyeh as calling for the marches in protest of the latest Israeli police crackdown of Muslim worshippers at Al Aqsa Mosque as well as the continuing bombardment of Gaza that left at least 113 people dead.
Haniyeh made the call on Friday as Gaza faces the possibility of another Israeli ground invasion similar to 2014. As of Friday morning, Israel has positioned many troops, tanks and artillery at its border near Gaza.
14 May 2021 – 04:38 GMT
More Israeli shelling reported in Gaza towns
Safa Press agency is reporting more Israeli shelling and aerial bombardments in Gaza on Friday morning.
In the last few minutes, "violent" artillery shelling hit east of Deir al-Balah governorate just south of Gaza City.
Artillery fired also reportedly hit the homes of civilians east of Maghazi, also in Deir al-Balah area.
14 May 2021 – 03:18 GMT
New Israeli bombardments reported in several areas of Gaza
Safa Press agency is reporting a new round of Israeli bombardments in several areas of the Palestinian territory of Gaza on Friday morning.
In the last hour, several air raids were launched in the eastern and northern part of Gaza City.
Artillery fire and shelling were also reported in the town of al-Fakhari, east of Khan Yunis in Gaza.
14 May 2021 – 03:18 GMT
Israeli settlers attack Palestinian homes in West Bank
A video posted on social media by New Press publication showed several alleged Israeli settlers attacking Palestinian homes in the city of Hebron in the West Bank early on Friday.
Clashes have erupted in recent days between Israeli settlers and Palestinian citizens both in the West Bank as well as in Israel.
مستوطنون يهاجمون منازل الفلسطنيين الان في الخليل pic.twitter.com/cOY444jGLH — Newpress | نيو برس (@NewpressPs) May 14, 2021
14 May 2021 – 02:44 GMT
New Israeli strike hits northern Gaza
Latest Israeli air strikes hit the northern Gaza district of Zeitoun early on Friday.
A video posted on social media by Safa Press agency showed dark smoke rising over Gaza following the reported strike.
There were no immediate reports on casualties.
📹 استهداف جديد في حي الزيتون بمدينة غزة#غزة_تحت_القصف pic.twitter.com/FCYzXaeMXx — وكالة صفا (@SafaPs) May 14, 2021
14 May 2021 – 02:20 GMT
Clashes reported in West Bank
Safa Press agency is reporting on Friday that clashes have erupted between Palestinians and Israeli security force at the northern entrance of the West Bank city of Al-Bireh, opposite the Jewish settlement of Beit El.
There were no immediate reports of casualties.
Protests have erupted across West Bank in support of Palestinians, who are facing heavy bombardment in Gaza.
Earlier, Safa Press posted a video of protests in the West Bank governorate of Jenin.
📹 هتافات المتظاهرين في محافظة جنين في الضفة الغربية الآن نصرة لغزة ودعما للمقاومة#يا_ضفة_يلا pic.twitter.com/auPsv2scoZ — وكالة صفا (@SafaPs) May 14, 2021
14 May 2021 – 01:25 GMT
Rocket fired from Gaza hits building in Israel's Ashkelon
A rocket fired from Gaza early on Friday has hit a building in the southern Israeli city of Ashkelon, according to Al Jarmaq news.
There was not immediate detail about casualties, but many residents in the area have already been ordered to stay in shelters.
The group Hamas, which is based in Gaza, said it has fired at least 250 rockets into Israel in the last few hours in response to the heavy Israel bombardment that killed at least 109 Palestinians.
صور | تضرر مبنى في عسقلان جرّاء إطلاق صواريخ من غزة. pic.twitter.com/1KWqYPIwJE — الجرمق (@aljarmaqnet) May 14, 2021
14 May 2021 – 00:55 GMT
Protests erupt in the West Bank denouncing Israeli operation in Gaza
Protests have erupted across the West Bank denouncing the latest Israeli operation in Gaza that has so far killed more than 100 people.
A video posted by Safa Press agency early on Friday showed protesters taking to the streets in Nablus. Protests were also reported in Jenin, Hebron, Tulkarem, Qalqiliya.
📹 مسيرات حاشدة في نابلس وجنين والخليل نصرة لغزة ودعمًا للمقاومة#يا_ضفة_يلا pic.twitter.com/hsa3ZPtltL — وكالة صفا (@SafaPs) May 14, 2021
14 May 2021 – 01:29 GMT
Israeli air strike kills woman, three children
Al Jazeera correspondent Safwat al-Kahlout, reporting from Gaza, said a woman and her three children are the latest fatalities in the continuing Israeli air strikes on the Palestinian territory.
He said the bodies of the four victims have been retrieved by authorities, after an ambulance was initially prevented from reaching the site in northern Gaza due to the intense bombardment.
The latest fatalities are in addition to the 109 confirmed deaths including 28 children.
Kahlout also said that hospitals in Gaza are appealing for blood donations due to shortage after a "big wave" of injuries.
More families are also continuing to evacuate and seeking shelter at UN schools as the heavy Israeli bombardment continues.
Imagine having to decide whether to sleep your children in different areas of the house to increase the chance that at least one will survive or to huddle w/ them so you all die together. You cannot run and no place is safe as Israel's bombs rain down. #Gaza — Huwaida Arraf (@huwaidaarraf) May 14, 2021
13 May 2021 – 23:03 GMT
No Israeli forces are inside Gaza following bombardment
Al Jazeera correspondent Safwat al-Kahlout, reporting from Gaza, said Israeli forces have not entered Gaza following a barrage of artillery and air raids in the north of Gaza.
"I can confirm that there are no Israeli troops inside Gaza," al-Kahlout said.
"We have been contacting our sources deployed or living near the border. There is no indication of Israeli troops inside Gaza," he said.
13 May 2021 – 22:58 GMT
Palestinian-American congresswoman rips US leaders
Democratic US Representative Rashida Tlaib, the US Congress's only Palestinian-American member, delivered an emotional speech on the House floor Thursday, slamming President Joe Biden and other top US leaders for offering statements that she says do not acknowledge what Palestinians are currently experiencing amid the Gaza fighting.
"To read the statements from President Biden, Secretary Blinken, General Austin and leaders of both parties, you would hardly know Palestinians existed at all," Tlaib said.
"There has been no recognition of the attack on Palestinian families being ripped from their homes right now. No mention of children being detained or murdered. No recognition of a sustained campaign of harassment and terror by Israeli police against worshippers kneeling down and praying and celebrating the holiest days in one of their holiest places, no mention of Al Aqsa being surrounded by violence, tear gas, smoke, while people pray."
Despite the crushing despair knowing that death is raining down once again on the people of Gaza, Rep. Rashida Tlaib should give us all hope. She is exactly where she was meant to be, saying exactly what must be said: Palestinian rights are human rights pic.twitter.com/NGHyGH5vFM — francesca fiorentini (@franifio) May 14, 2021
13 May 2021 – 22:51 GMT
UN Security Council to meet to discuss Israel and Gaza, US says
United States Ambassador to the United Nations Linda Thomas-Greenfield said the UN Security Council would meet on May 16 to discuss the situation in Israel and the Palestinian territories.
The UN Security Council will meet to discuss the situation in Israel and Gaza on Sunday. The U.S. will continue to actively engage in diplomacy at the highest levels to try to de-escalate tensions. — Ambassador Linda Thomas-Greenfield (@USAmbUN) May 13, 2021
The US, a permanent member of the 15-nation Security Council, had objected to a public discussion on Friday. The council held two private meetings on the escalating fighting between Israel and Palestinian factions in Gaza this week.
13 May 2021 – 22:40 GMT
Palestinian official condemns Israeli attack on north Gaza
Palestinian diplomat Husam Zomlot tweeted an image of flames and smoke in northern Gaza following an artillery bombardment from Israel.
Gaza now. What I hear from our people in Gaza is horrific. Israel's aggression is beyond barbaric and must stop immediately!#ApartheidIsrael #EidWithPalestine #SavePalestine pic.twitter.com/wyYibCPHjf — Husam Zomlot (@hzomlot) May 13, 2021
Zumlot is the Palestinian ambassador to the United Kingdom and an adviser to Palestinian President Mahmoud Abbas.
13 May 2021 – 22:13 GMT
Israeli forces attack northern Gaza, hundreds driven from their homes
Al Jazeera correspondent Safwat al-Kahlout, reporting from Gaza, described a sudden and huge wave of Israeli attacks from the air, artillery and tanks concentrated in the north of the Gaza Strip.
"We could hear lots of explosions," al-Kahlout said.
Following the Israeli attacks, there were calls for ambulances for people who were injured. Ambulance services had difficulty reaching the area because roads linking to the north were damaged by the Israeli bombardment, al-Kahlout said.
Hundreds of families were driven from their homes and forced to take shelter from the bombing, he said.
13 May 2021 – 21:44 GMT
Israeli forces announce air and ground troops are attacking Gaza
In a statement on Twitter, the Israeli military said its forces are attacking Gaza.
IDF air and ground troops are currently attacking in the Gaza Strip. — Israel Defense Forces (@IDF) May 13, 2021
Al Jazeera's Harry Fawcett, reporting from southern Israel, described sounds of artillery being fired into Gaza and machine-gun fire from a helicopter as a column of Israeli armoured vehicles headed towards the border.
Fawcett saw "the first sort of major movement of heavy armour that we had seen so far. Tanks, tracked vehicles, heading in a line south towards Gaza at the same time as there was this extremely intensive artillery barrage lasting about an hour."
It was unclear whether it was the start of a ground invasion, or the "warning of a potential" invasion, he said.
13 May 2021 – 20:32 GMT
Gaza-Israel operations continue
Reporting from southern Israel, Al Jazeera's Harry Fawcett said that operations on both sides were still going on, but there has been a bit of a lull in terms of the most recent rocket fire out of Gaza.
"However, we are still hearing regularly artillery heading into Gaza from locations around here," said Fawcett.
"Also in the last 10 minutes, the sound of machine-gun fire apparently coming from nearby. Helicopter[s] as well, and so the situation remains that this is a continuing military attack that the Israelis seem intent on continuing.
"What we saw earlier was the first of a major movement of heavy armour that we've seen so far, tanks, tracked vehicles, heading in a line south towards Gaza, at the same time there was this extremely intensive artillery barrage lasting about an hour, then there was a pause, and then another big artillery barrage coming later.
"It's not yet clear whether this is a ground invasion, or whether it is a kind of a warning of the potential of a ground invasion. Either way, it is already having a devastating impact it seems in northern Gaza," he added.
13 May 2021 – 20:13 GMT
Gaza death toll climbs as Israel escalates aerial bombardment
The death toll in Gaza has climbed above 100 as Israel pounded the enclave with more air raids and artillery shells, while Hamas sent a heavy barrage of rockets deep into Israel, even as Egyptian negotiators held in-person mediation talks with the two sides.
The four days of cross-border violence showed no sign of abating as Palestinians marked the first day of the Eid al-Fitr religious holiday on Thursday, and the violence has also spread to mixed communities of Jews and Arabs in Israel, a new front in the long conflict.
Read more here.
A ball of fire engulfing the al-Walid building which was destroyed in an Israeli air raid on Gaza city [AFP]
13 May 2021 – 20:08 GMT
Pakistan reaffirms support for Palestinians
Pakistani Prime Minister Imran Khan has spoken by telephone with Palestinian President Mahmoud Abbas about the deteriorating situation between Israel and Palestinians.
The Pakistani foreign ministry said that Khan reaffirmed Pakistan's support for the rights of Palestinian people. The ministry said Khan strongly condemned the attacks on worshippers in the Al-Aqsa Mosque in Jerusalem, as well as deadly air strikes by Israel in Gaza.
13 May 2021 – 19:35 GMT
Israel shells north Gaza, destroys houses in the south
Al Jazeera's Safwat Al Kahlout, reporting from Gaza City, said that in a new development Israel has begun firing barrages of artillery shells into the north of the Gaza Strip.
"Hundreds of families are now evacuating their homes in the north of Gaza because of the heavy artillery shells landing. The ambulance services told us that some of the artillery shells had directly hit some houses in the so-called Bedouin village which is very close to the border," he said.
"It's the same scenario of the war of 2014 when hundreds of families also evacuated their homes because of the random shooting."
Al Kahlout said the Gaza ambulance service told Al Jazeera it has also received appeals for assistance from citizens in the south of the Gaza Strip, mainly in Rafah, as Israeli jets had destroyed houses in air raids without warning.
"They believe that there are lots of people under the rubble. So far, the ambulance services say they have managed to retrieve five bodies – including children and women – from one of the destroyed houses."
A Palestinian man walks past the remains of a tower building that was destroyed by Israeli air raids [Suhaib Salem/Reuters]
13 May 2021 – 19:20 GMT
Blinken says rocket attacks against Israel must cease
US Secretary of State Antony Blinken reiterated that rocket attacks by Palestinian armed groups against Israel must cease, and also said the United States had been clear that Israel has the right to defend itself.
Blinken made the comments at a joint briefing with Australia's foreign minister.
US Secretary of State Antony Blinken at the State Department in Washington [File: Leah Millis/Reuters]
13 May 2021 – 19:17 GMT
Gaza death toll rises to more than 100
More than 100 Palestinians in the Gaza Strip have been killed over the past four days of military conflict with Israel, officials in the blockaded coastal enclave.
According to the health ministry in Gaza, 103 people were killed, including 27 children and 11 women, while 580 people have wounded since Monday.
Palestinians carry the bodies of 13 people killed in Israeli air raids over Gaza [Mahmoud Hams/AFP]
13 May 2021 – 18:42 GMT
At least three rockets fired from south Lebanon towards Israel
Lebanese security forces say that at least three rockets have been fired from south Lebanon towards Israel.
The Israeli military said the rockets landed in the Mediterranean sea, causing no damage or casualties. It added that rockets were launched from the Qlayleh area north of Naqoura, near the border with Israel.
It was unclear who was responsible for the attack or where the rockets landed, according to the officials, who spoke on condition of anonymity in line with regulations.
Israeli media reported that the rockets were apparently fired by one of the Palestinian factions in Lebanon and that it is not the start of Hezbollah getting involved in the conflict.
No air raid sirens were activated in northern Israel, which the military said was in accordance with "protocol".
13 May 2021 – 18:39 GMT
Israel begins firing artillery and tank shells into Gaza
Israel has begun firing artillery and tank shells into Gaza, and scores of families are fleeing their homes, Palestinian witnesses in the Gaza Strip said.
The use of artillery fire marks an escalation in Israel's four-day-old offensive in Gaza and raises the likelihood of civilian casualties.
The attacks occurred in northern communities near the Israeli frontier and in eastern Gaza City.
Resident Ibrahim Jamal said about 200 people have sought shelter in a United Nations school.
13 May 2021 – 16:52 GMT
Biden urges reduction in rocket attacks
United States President Joe Biden called for a de-escalation of violence in the Middle East as the conflict in Gaza intensified, saying he wants to see a significant reduction in rocket attacks.
Biden, speaking to reporters at the White House, also said he expects to have more talks with leaders in the region. He added that he has not seen "a significant overreaction" by Israel to rocket attacks by Hamas from Gaza.
"The question is … how they get to a point where there is a significant reduction in the attacks, particularly the rocket attacks, that are indiscriminately fired into population centres," Biden said.
Biden spoke on Wednesday with Israel Prime Minister Benjamin Netanyahu and said conversations were continuing between US diplomats, military and intelligence officers with counterparts in Israel, Egypt and Saudi Arabia and others about a de-escalation of violence.
13 May 2021 – 16:39 GMT
Israel calls up 9,000 reservists as troops mass on Gaza border
Israel's defence minister has approved the mobilisation of 9,000 more reservist troops amid fighting with Hamas, and Israel's military spokesman says forces are massing on the border with the Gaza Strip.
The defence ministry said that the latest mobilisation approved by Defence Minister Benny Gantz was an "exceptional call-up".
13 May 2021 – 16:33 GMT
US objects to UN meeting on Israel, Gaza on Friday
The United States has objected to a request by Norway, China and Tunisia for a public meeting of the United Nations Security Council on Friday to discuss the worsening violence between Israel and Palestinian fighters, diplomats said.
Diplomats said Washington cited diplomatic efforts as the reason for their objection, saying a council discussion would not be productive, but left the door open for a possible meeting on Tuesday.
13 May 2021 – 16:27 GMT
'A nightmare': Gaza resident recounts Israeli air strike
Yousef al-Hammash, a resident of the Gaza Strip, told Al Jazeera: "Two days ago, I was in my house with my pregnant wife and three-year-old daughter, trying to convince ourselves that it's safe to be home.
"At 6pm, an air drone suddenly hit the building. Then came an air strike which landed on the apartment below. I had to flee right away because we expected a rocket next.
"I couldn't take anything. The next day I returned for two minutes to try to get some clothes and medicine, but then they (Israel) hit again.
"Again, today I had to flee my grandparents' house with all my family. All we can do is move from place to another place and try to convince ourselves that this time it will be safe. It's been a nightmare."
A Palestinian man checks the damage caused by an Israeli air raid at a building in Khan Yunis [Said Khatib/AFP]
13 May 2021 – 16:15 GMT
Panic at Ben Gurion Airport
Social media users said that travellers at Israel's main airport, Ben Gurion, were scared and panicked as they ran for shelter after a rocket fired by Hamas from the Gaza Strip landed near the airport.
🇮🇱 — WATCH: People running to take Shelter at Israel's Ben Gurion airport earleir, as rockets were fired from Gaza towards Central Isreal. pic.twitter.com/o51NkfDvCj — Belaaz (@TheBelaaz) May 13, 2021
13 May 2021 – 15:47 GMT
Germany warns of protests as conflict intensifies
Authorities warned of further protests in Germany over the conflict between Israel and Palestinians.
On Wednesday, German police detained more than a dozen men in three cities suspected of damaging a synagogue, burning Israeli flags and starting a fire at a Jewish memorial site.
"Security agencies expect intensifying protest activities by Palestinians in Germany as well as parts of the leftist movement," an interior ministry spokesman said.
Some of the suspects in the earlier incidents told police the Israel-Palestinian violence had motivated them to throw stones at a synagogue.
13 May 2021 – 15:36 GMT
Gaza death toll reaches 87
The number of Palestinians killed in the Gaza Strip has now risen to 87, including 18 children and eight women, the local health ministry has said.
At least 530 others have been wounded amid the continuing violence.
A Palestinian man looks at the destruction of a building hit by Israeli air raids in Gaza City [Khalil Hamra/AP]
13 May 2021 – 15:07 GMT
France asks police to ban pro-Palestinian Paris protest
France's interior minister asked police to ban a pro-Palestinian protest in Paris this weekend over the conflict with Israel, fearing a repeat of clashes during a similar situation in 2014.
Activists had called the protest in the Barbes district of northern Paris to demonstrate against Israel's use of force in the Gaza Strip in response to rocket fire by the militant group Hamas.
"I have asked the Paris police chief to ban the protests on Saturday linked to the recent tensions in the Middle East," Interior Minister Gerald Darmanin wrote on Twitter.
"Serious disturbances to public order were seen in 2014," he added, urging police chiefs elsewhere in France to also remain vigilant over demonstrations.
In a circular seen by AFP, Darmanin also urged local police chiefs to assure the "protection of places of worship, schools, cultural centres and businesses of the Jewish community."
Women pose for a selfie for Eid al-Fitr at the Dome of the Rock Mosque in the Al-Aqsa Mosque compound in the Old City of Jerusalem [Mahmoud Illean/AP]
13 May 2021 – 14:52 GMT
Celebrities weigh in on Israel-Palestine conflict
An escalation in the Israel-Palestine conflict, which has seen dozens killed in a matter of days, has prompted international concern and worries about the potential of an all-out war.
The conflict has gripped the international news agenda and led to global calls for de-escalation.
It has also attracted the attention of leading public figures and celebrities, including the Palestinian-Dutch models Bella and Gigi Hadid, the singer Rihanna, Pakistani Nobel laureate Malala Yousafzai, and Israeli actress Gal Gadot.
Read more here.
Bella Hadid on the left and Gal Gadot on the right [Reuters]
13 May 2021 – 14:49 GMT
Palestinian citizens of Israel report attacks by Israeli security forces
Riya al-Sanah, a Palestinian activist and resident of Haifa, told Al Jazeera: "We need to set the record straight on something. This is not a civil war. We Palestinians in so-called Israel are a colonised people."
"This started in 1948 with the establishment of the Israeli state and the colonisation of Palestine. So, it's not correct to describe it (inter-communal violence) as a civil war. This situation is the continuation of a process that started a long time ago.
Israelis forcing their way in a Palestinian home in Nazareth to attack them. Later on, you see Israeli police joining in. This is a pogrom. pic.twitter.com/59rsnAZ0nZ via @aljarmaqnet — لينة (@LinahAlsaafin) May 12, 2021
"There's quite a lot of fear amongst Palestinian communities. We're not only facing structured violence by the Israeli state, police institutions and the military, we're also seeing organised and armed mobs of Zionists roaming the streets, looking for Palestinians and attacking them," he said.
"Yesterday in Haifa, mobs that roamed the streets looking for Palestinians to attack were being protected by the police. The police themselves went into people's homes and attacked them viciously and violently."
13 May 2021 – 14:25 GMT
Putin and UN chief call for end to violence
Russian President Vladimir Putin and United Nations Secretary-General Antonio Guterres appealed during a video call for an end to fighting between Israel and Palestinians, the Kremlin said.
"In light of the escalation in the Palestinian-Israeli conflict, it was noted that the main goal is to stop violent acts from both sides and ensure the safety of the civilian population," the Kremlin said in a statement.
13 May 2021 – 14:14 GMT
Palestinian citizens of Israel report attacks by Jewish mobs
Palestinian families in the mixed Arab-Jewish city of Haifa told Al Jazeera Arabic that mobs of Jewish Israelis were marking the homes of the city's Arab community on Wednesday night to help identify them.
Meanwhile, others used lethal force to attack Arabs in their homes while police forces stood by and watched.
"Hundreds if not thousands of settlers (Jewish Israelis) attacked Arab neighbourhoods in Haifa last night," said Heba, an Arab resident of Haifa.
"They were asking where the Arabs live. They attacked us in our home with stones under the protection of the security forces. There were tens of police officers, cars and even horses. We had nothing to protect ourselves within our own homes," she added.
במתנחלים בחיפא, תחת חסות המשטרה, מסמנים בתים של ערבי, אחרי שהם דופקים על הדלת כדי לדעת אם מדובר בבית ערבי.
מסמנים את הבית כדי לחזור יותר מאוחר ולתקוף אותם. pic.twitter.com/zX4ko7KYed — أَبُو النَّحس الْمُتَشَائِل wael 🇵🇸 (@waelabboud18) May 12, 2021
Translation: Under the auspices of the police, settlers in Haifa mark Arab homes after they knock on the door to find out if it's an Arab house. They come back later to attack them.
Heba said "Settlers went around marking Arab homes with red marks. They vowed to come back to attack us."
"They are attacking all Arabs whether they are Muslim, Christian or Druze. We are terribly scared that they will come back and attack us in our homes and on the streets. We have nothing to protect ourselves against this state-sponsored violence.
"No one was arrested. The police actually protected them. These groups feel protected by the state, police and military and this violence," she told Al Jazeera Arabic.
13 May 2021 – 13:39 GMT
Israel looks to backup airport as flight cancellations mount
British Airways, Virgin Atlantic, Lufthansa and Iberia all cancelled flights to Tel Aviv as European carriers joined US airlines in avoiding flying to Israel, which has activated a backup airport in the far south as a precaution against rockets from Gaza.
"The safety and security of our colleagues and customers is always our top priority, and we continue to monitor the situation closely," British Airways said after cancelling its flights to and from Ben Gurion Airport for Thursday.
Smoke rises following Israeli air raids on a building in Gaza City [Hatem Moussa/AP]
13 May 2021 – 12:35 GMT
Egypt delegation in Tel Aviv for ceasefire talks
An Egyptian delegation is in Tel Aviv for talks with Israeli officials as part of efforts to negotiate a ceasefire in the escalating conflict with Gaza, Egyptian intelligence officials said.
The two officials spoke on condition of anonymity because they were not allowed to brief the media. The same delegation met with Hamas officials in the Gaza Strip first, they said, and crossed into Israel by land. Egypt has played a mediating role in the past between the sides.
13 May 2021 – 11:48 GMT
Long-range missile fired towards Ramon Airport: Hamas
The spokesman for Hamas's al-Qassam Brigades said the armed wing has for the first time fired a rocket towards Ramon Airport south of the country.
"The Ayyash 250 missile, with a range greater than 250km has been launched at Ramon Airport, about 220km from Gaza," Abu Obeida said.
The rocket is named after Yahya Ayyash, one of Hamas's leading operatives who was assassinated by Israel in 1996.
Abu Obeida called the launch of the rocket part of the al-Qassam Brigades' response to the killing of its senior commanders.
13 May 2021 – 11:24 GMT
PM Johnson says UK wants urgent de-escalation
Prime Minister Boris Johnson said the United Kiongdom wanted to see an urgent de-escalation of violence in Israel.
"Certainly we in the UK are very sad to see what is happening and the cycle of violence that now seems to be taking place," Johnson told reporters.
"I think it's important that we break that cycle and we end this idea of reprisals, and I think that what everybody wants to see is urgent, urgent de-escalation."
13 May 2021 – 11:21 GMT
Egypt, Russia say Israel needs to stop Gaza attacks
Egyptian Foreign Minister Sameh Shoukry and his Russian counterpart Sergey Lavrov agreed that Israel needs to stop attacks on the Gaza Strip.
In a phone call, the two top diplomats reiterated that Israel should stop the bloodshed, according to a statement issued by the Egyptian Foreign Ministry.
13 May 2021 – 11:12 GMT
'Our weapons are for sake of our land, to defend our people': Hamas
Hamas's armed wing, the al-Qassam Brigades, has warned Israel there are "no red lines if Al-Aqsa is violated".
Spokesman Abu Obeida said the decision to bomb Dimona, Tel Aviv and other Israeli cities "is easier for us than drinking water".
"We reassure our people that we have more rockets in our inventory, and our missile strikes have revealed the enemy's fragility," he said.
As Israel is preparing ground troops east of the Gaza Strip, Obeida said the Israeli army will sorely regret carrying out a ground invasion.
"Our weapons are for our land, for the defence of our people and victory for our sanctities," the military spokesman said.
"What distinguishes this battle is the solidarity of the Palestinians across the country and their unanimous support for resistance."
13 May 2021 – 09:56 GMT
Lufthansa suspends flights to Tel Aviv through Friday
German airline Lufthansa said it was suspending all flights to Tel Aviv through Friday, May 14.
"Lufthansa is closely monitoring the current situation in Israel and continues to maintain a close exchange with the authorities, security service providers and our own staff on the ground," read a statement from the company.
Lufthansa said it expected flights to Israel to resume on Saturday, May 15.
13 May 2021 – 09:43 GMT
Israel orders 'massive reinforcement' to quell internal violence
The Israeli defence minister, Benny Gantz, has ordered a "massive reinforcement" of security forces to help contain deadly internal unrest that has rocked mixed Jewish and Arab communities across the country.
"We are in an emergency situation due to the national violence and it is now necessary to have a massive reinforcement of forces on the ground, and they are to be sent immediately to enforce law and order," he said.
He specified the forces would be reservists from Israel's border police, a force that largely operates in the occupied West Bank.
13 May 2021 – 09:29 GMT
Israeli army wounds 35 in occupied West Bank
At least 35 Palestinians were wounded in confrontations with the Israeli army in various locations in the occupied West Bank, Al Jazeera's Nida Ibrahim reported.
Ibrahim said that the majority of people were hit by live ammunition and that most injuries occurred in the southern West Bank city of Hebron.
"It was an exceptionally high number of injuries by live fire which shows us that the situation could be escalating rapidly," she added.
13 May 2021 – 09:01 GMT
Gaza death toll rises to 83
The number of Palestinians killed in the Gaza Strip has now risen to 83, including 17 children, the local health ministry has said. More than 480 others have been wounded amid the continuing violence.
"This is a crime. They were civilians." Palestinian health officials say three Palestinians were killed when a car was hit by an Israeli air raid in Gaza City on Wednesday. pic.twitter.com/5b6tZNw1Fv — Al Jazeera English (@AJEnglish) May 13, 2021
13 May 2021 – 08:52 GMT
Where will Israel's assault on Palestinians end?
In this episode of The Stream, Al Jazeera will look at what is happening in Gaza and occupied East Jerusalem and ask what it will take to stop the violence.
13 May 2021 – 08:31 GMT
1,600 rockets fired from Gaza: Israel's military
More than 1,600 rockets have been launched from Gaza at Israel since the latest flare-up of fighting began earlier this week, according to Israel's military.
Around 400 of the rockets went down over Gaza, spokesman Jonathan Conricus said. The success rate of Israel's Iron Dome aerial defence system continues to average around 90 per cent at intercepting rockets, he added.
Israel's military has attacked around 600 targets in the Gaza Strip, including rocket production and storage facilities. A tunnel was also targeted that Conricus said was used partially to hide fighters and was built under a school in a populated area.
A picture taken with a drone shows the ruins of buildings that were destroyed in Israeli air raids amid a flare-up of Israeli-Palestinian violence, in the northern Gaza Strip [Mohammed Salem/Reuters] The Israeli army also said that it is going to present a plan for a ground operation for the political leadership, said Al Jazeera's Harry Fawcett reporting from southern Israel, close to the border with the Gaza Strip.
"That doesn't mean that it [the plan] will go ahead as a ground offensive in Gaza would be a huge escalatory step that carries with it a huge amount of risk," he said.
Meanwhile, Fawcett reported that further rockets were fired out of Gaza in the course of the night adding that some reports said that more barrage will come through the day.
"So the escalatory nature of the situation remains pretty much in place."
13 May 2021 – 08:27 GMT
Fresh Israeli air raid on Rafah city
The city of Rafah in the southern Gaza Strip has been hit by a fresh Israeli air raid, while a barrage of rockets was launched from Gaza towards Israeli cities close to the enclave, Al Jazeera's Nida Ibrahim, reporting from Ramallah, said.
"Gaza is a relatively small piece of land with two million Palestinians – one of the most condensed areas in the world so you can imagine the impact of these targets," said Ibrahim.
"It is also such a closed zone the chances of hitting civilians gets very high as Palestinians can tell you from previous wars," she added.
13 May 2021 – 07:45 GMT
Israel destroys third Gaza tower
13 May 2021 – 07:26 GMT
PODCAST: The Take – In Sheikh Jarrah, Palestinians confront the city's future
What started out as protests against forced expulsions in a Palestinian neighbourhood has turned into an Israeli crackdown that has engulfed much of occupied East Jerusalem, including holy sites like Al-Aqsa Mosque.
But Sheikh Jarrah is just one neighbourhood, and displacements are unfolding across the occupied territories.
As the reverberations in Sheikh Jarrah spread beyond, how will it affect the future of Palestinians in Jerusalem?
Listen to Al Jazeera's podcast The Take, with our host, Malika Bilal.
13 May 2021 – 07:23 GMT
'Take a step back': UK minister
Britain's minister for the Middle East has urged "both sides to take a step back" from the brink of what he described as a terrible escalation.
"We have seen, however, an unprecedented level of rocket attack into Israel," James Cleverly, a junior foreign minister who deals with the Middle East and North Africa, told Sky News. "We want to see the rocket attacks stop."
13 May 2021 – 07:23 GMT
Preparing for 'multiple scenarios': Israel military
Israel's military spokesman Jonathan Conricus said attacks on Gaza will continue as Israel prepares for "multiple scenarios".
"We have ground units that are prepared and are in various stages of preparing ground operations," he told reporters on Thursday.
13 May 2021 – 06:16 GMT
Muslims perform Eid al-Fitr prayers in the Al-Aqsa Mosque compound [Ahmad Gharabli/AFP]
Eid prayers
Hundreds of worshippers have attended Eid prayers at the Al-Aqsa Mosque compound in Jerusalem's Old City, Islam's third holiest site.
"We in Gaza and all of Palestine do not feel the joy of this Eid because of this devastating aggression carried out by the occupation forces on Gaza and all of Palestine in general," said Moe'n Ahmad, a resident from Gaza.
Religious leaders called for calm on the day that marks the end of Ramadan for Muslims around the world.
#صور | أداء صلاة الغائب على أرواح شـــهـــ ــداء غزة في المسجد الأقصى المبارك. pic.twitter.com/v0um3AvhWd — الجرمق (@aljarmaqnet) May 13, 2021
Translation: Performing the absentee prayer for the souls of Gaza martyrs at the blessed Al-Aqsa Mosque.
13 May 2021 – 06:00 GMT
Turkey calls on Muslims to take clear stance over Gaza
Muslim countries must show a united and clear stance over Israel's conflict with the Hamas movement in Gaza, said Turkey's Vice President Fuat Oktay as he criticised world powers for condemning violence without acting.
"What we desire is that active measures are taken," Oktay told reporters after morning prayers marking the end of Ramadan.
"There are decisions taken repeatedly at the United Nations, there are condemnations. But unfortunately, no result has been obtained, because a clear stance is not displayed."
13 May 2021 – 05:58 GMT
Rockets prompt diversion of Tel Aviv flights
All passenger flights to Israel's Ben Gurion International Airport near Tel Aviv were being diverted to a southern airport amid persistent rocket fire from Gaza, the airport's authority said.
It said guidelines were in place for passenger planes to land at Ramon Airport near the southern resort city of Eilat from early on Thursday.
For updates from Wednesday, May 12, click here.