Anger of Chinese Muslim over Demolition of Islamic Structures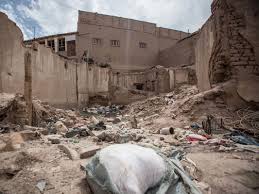 China is currently engaged in an intensive exercise of depriving devout Muslims in its northwest region from openly expressing any symbols of the Islamic faith. The Chinese authorities have reportedly destroyed the domes and minarets on mosques, not sparing even the remote areas and small villages. For example, a place near Linxia which was earlier known as `Little Mecca' for its prominent Islamic symbols had to accept demolition of its structures. Such demolitions have also been extensively carried out in Inner Mongolia, Henan and Ningxia, the homeland of the Chinese Muslim ethnic minority, the Hui. Chinese authorities also forcibly closed three mosques in the southern province of Yunnan. Not just about structures, even about language and culture, China is seemingly and deliberately sceptical. The Chinese are uncomfortable with the usage of the Arabic script by Muslims and assume it to be a radical expression. This kind of a parochial approach only highlights the fragility of different ethnicities within that country wherein the harsh crackdown on Uighur Muslims in Xinjiang could be extended to any minority group at any moment. Actually, China apprehends that the observance of Muslim faith may just be a precursor to religious extremism and may lead to mass defiance & pose a direct threat to the CCP rule. It is a known fact by now that Xi Jinping wants to establish the supremacy of the ideologies of the Communist party in all walks of life for every Chinese even at the cost of impacting and restricting that individual's religious freedom. This exercise being undertaken in Xinjiang is under the process of implementation in other parts of the country as well in an attempt to integrate Muslims such as Hui with the CCP's norms.
In a study conducted recently, the Australian Strategic Policy Institute revealed that since 2017, 65% of the region's mosques and 58% of important Islamic sites have been destroyed. The study goes on to point out the criminalisation of community gatherings and festivals, disappearance en masse of academics and cultural figures and eradication of the Uyghur language from the public sphere. The regressive Chinese regime has terrorised the local Muslims to the extent that Muslims fearing for their lives have had to throw their religious books into the rivers. The observers call this forced assimilation strategy a cultural genocide. In Kashgar alone, 70% of the mosques have been demolished since 2016. Rachel Harris, Ethnomusicologist and Uyghur specialist opined that ASPI underestimated the magnitude of the ethnic cleansing and that the number of mosques imperilled was actually 80%.
In fact, Kashgar's famous 15th century Id Kah Mosque has lost its star and crescent structures. The entire old city in which the mosque was ensconced was demolished and inhabitants displaced. It has been replaced with shiny modern shops. Jean-Paul Loubes, French architect and anthropologist has described the reframing of the Id Kah as a typical example of older Uyghur space being substituted with modern Chinese space. China has even criminalised Islamic praying in public and local authorities send officials to Muslim homes to keep a watch and rule out even private prayer. Clearly, Xi Jinping aims at divorcing the Muslim community from its heritage in an attempt to break their lineage, roots, connections and origin. The Mazar closures since 1997 with the shutdown of the 10th century old Ordam Padishah led to the end of decorating all shrines & celebrating all festivals throughout Xinjiang since 2015. There are many such culturally significant sites like Imam Je'fri Sadiq, near Niya that have also been lost.
In the tomb of Imam Asim, near Khotan, only mud brick has been left after the levelling of the mosque and the destruction of wooden structures. Another loss of Islamic artefacts were precious ones held inside mazar complexes including the gigantic historic cooking pots used for communal meals. Interestingly, many of the Uyghur mazar scholars like Rahile Dawut, disappeared in 2017.They have not been traced till date. There are even photographs of 18th century scroll from shrines in southern Xinjiang featuring genealogy of Sufi leaders including a former ruler of the Uyghur region. Unfortunately, the status of these treasures remains unclear. The loss is irreparable and transcends the Uyghur civilisation. Further, Jeffiri Sadiq and desert shrines in various holy sites have also been lost forever. Such kind of disappearances of holy sites is not only in Kashgar but also in Uyghur neighbourhoods in Khotan, Yarkand, Karghalik and Keriya.It is not merely the loss for a nation, but that for an entire culture, an entire civilization.
Recently, Sichuan University of China released a document titled `Public Opinion Crisis pertaining to demolishing a large number of domes and other iconic Mosques in China and recommended counter measures. It has been authored by a research team comprising of Xie Guiping, a Professor of Collaborative Innovation Centre for Security and Development of Western Frontier(CWF), Sichuan University, Liu Lian, PG student at CWF, and Prof Bai Gui, Zhang Hongguang and Mao Qingliang, Research Fellows, Hebei University. The document vouches the demolition of about 10,000 Muslim structures like mosques, minarets and domes in Gansu, Ningxia, Qinghai, Xinjiang, Tibet, Inner Mongolia, Hebei and Sichuan. In fact, the local Muslims are undergoing immense psychological trauma and do not dare to express their anguish under strong surveillance of local authorities. It has also been pointed out that some local government cadres fail to understand the religious and spiritual connotations. These extreme ways of perceiving and practicing religion come from handling religious beliefs with atheistic ideas, sinicisation of mosques and violently damaging Islamic symbols. The document also accused the violation of the 2016 National Religious Conference and 2018 White Paper on China's Policy and Practice of Safeguarding Religious Freedom. It is further stated that such improper handling of the religious issue will also undermine the spirit of the Central Committee's consistent policy on ethnic and religious issues and thereby the credibility of the Party and State. It goes on to highlight the adverse impact such measures will have on Muslim countries especially those situated along the route of the Belt and Road Initiative. In their suggestions, the Institute recommended strengthening the monitoring of public opinion, preventing hostile forces from exploiting the situation and proper handling of the Muslim countries under BRI.
Interestingly, the Sichuan University document recommendations focus more on damage control and hiding the reality from the international community. It is an irony that the Chinese government keeps denying the destruction of a large number of Islamic sites whereas its very own scholars from a prominent Chinese University brought out the clearly laid down plan of the CCP for a crackdown on Islam and a systematic campaign to eradicate the Muslim identity in China.