Myanmar's Aung San Suu Kyi jailed for six more years for graft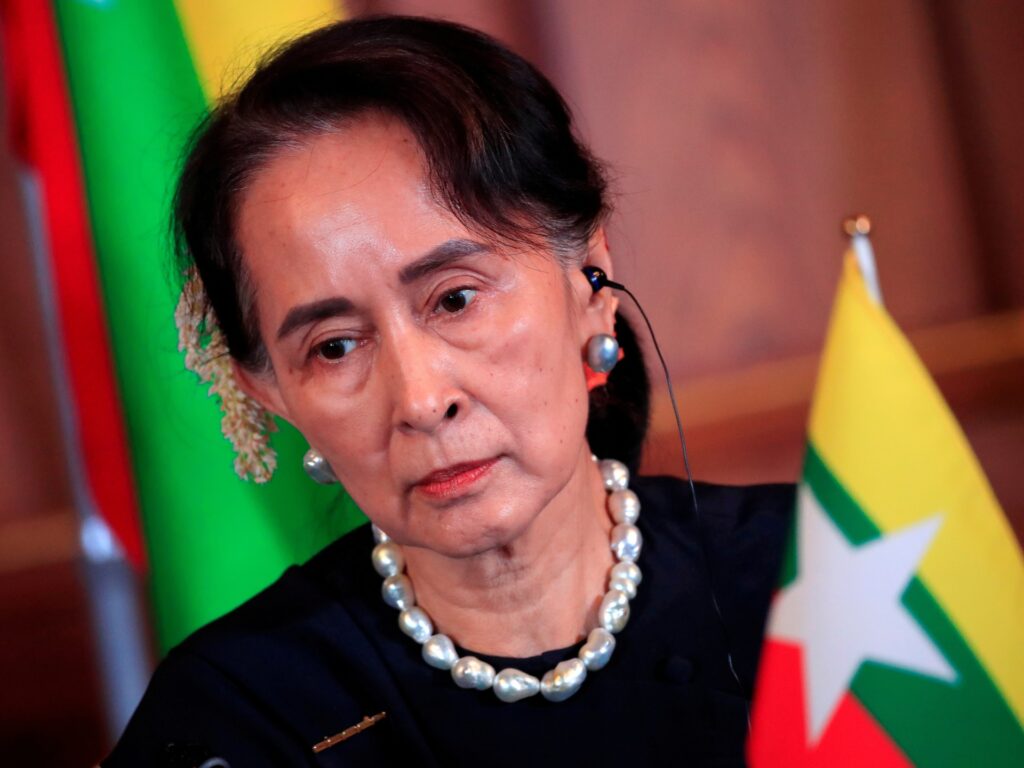 Popular civilian leader faces a series of trials brought by the military, which seized power from her government in a coup in 2021.
A court in Myanmar has convicted deposed leader Aung San Suu Kyi on charges of corruption, adding six years to her prison sentence, according to a legal official.
She had already been sentenced to 11 years in prison on sedition, corruption and other charges at earlier trials after the military detained her in February 2021 as it seized power from her elected government in a February 2021 coup.
Aung San Suu Kyi, 77, was convicted of misusing funds from the Daw Khin Kyi Foundation – an organisation she founded promoting health and education – to build a home, and leasing government-owned land at a discounted rate.
The trial was held behind closed doors, with no access for media or the public. Her lawyers have been ordered not to speak about the proceedings.
In the four corruption cases decided on Monday, Aung San Suu Kyi was alleged to have abused her position to rent public land at below-market prices and to have built a residence with donations meant for charitable purposes.
She received sentences of three years for each of the four counts but the sentences for three of them will be served concurrently, giving her a total of six more years in prison.
Aung San Suu Kyi denied all the charges and her lawyers are expected to appeal.
Zin Mar Aung, the foreign minister for Myanmar's National Unity Government, set up by the politicians ousted in the coup, said the decision was "yet another act of (the) junta's desperate attempts to discredit those democratically elected" and called for Aung San Suu Kyi's release.
The condemnation was echoed elsewhere with the European Union's top diplomat Josep Borrell calling for the release of all political prisoners and urging the coup leaders to "respect the will of the people".
Military's power grab
Analysts say the numerous charges against Aung San Suu Kyi and her allies are part of the military's attempt to legitimise its power grab and remove the hugely popular politician from politics ahead of an election it has said it will hold next year.
Aung San Suu Kyi and her co-defendants are expected to file appeals in the coming days, said the legal official, who asked not to be identified because he was not authorised to release information and he feared punishment by the authorities.
Other top officials from Aung San Suu Kyi's National League for Democracy party and her government have also been arrested and imprisoned, and the authorities have suggested they might dissolve the party before the next election.
Malaysia's Foreign Minister Saifuddin Abdullah, who has been pressing the Association of Southeast Asian Nations (ASEAN) to take a firmer line on Myanmar, which is a member of the 10-member group, also condemned the latest jail term.
"The additional sentencing of Aung San Suu Kyi and the recent execution of four democracy activists proved that the junta repeatedly disregarded calls by ASEAN leaders for concrete and inclusive dialogue for national reconciliation in Myanmar and to fulfil the ASEAN 5PC," he wrote on Twitter, in reference to the Five Point Consensus to end the crisis that the military agreed to shortly after the coup.
The army seized power on the day the NLD was set to have started a second-five year term in office after winning a landslide victory in the previous November's general election.
The army said it acted because of alleged voting fraud but independent election observers have said there was no evidence of any significant irregularities.
The army's takeover has plunged Myanmar into crisis, sparking peaceful street protests and a nationwide civil disobedience movement. The military responded with force, triggering armed resistance that some UN experts now characterise as civil war. Nearly 2,200 people have been killed by the military since the coup, according to the Assistance Association for Political Prisoners, which has been monitoring the crackdown.
The military regime has been accused of human rights abuses including arbitrary arrests and killings, torture and military sweeps that include air attacks on civilians and the burning of entire villages.
Aung San Suu Kyi has been the face of opposition to military rule in Myanmar for more than 30 years. She won the 1991 Nobel Peace Prize while under house arrest.
The military remained powerful, even during her five years as leader of the country's elected civilian government, which was Myanmar's most democratic period since a coup in 1962.
Aung San Suu Kyi has been criticised for defending Myanmar military and police actions in Rakhine state in 2017, which forced more than 750,000 mostly Muslim Rohingya to flee their homes and seek refuge in neighbouring Bangladesh.