How do I book a quarantine hotel?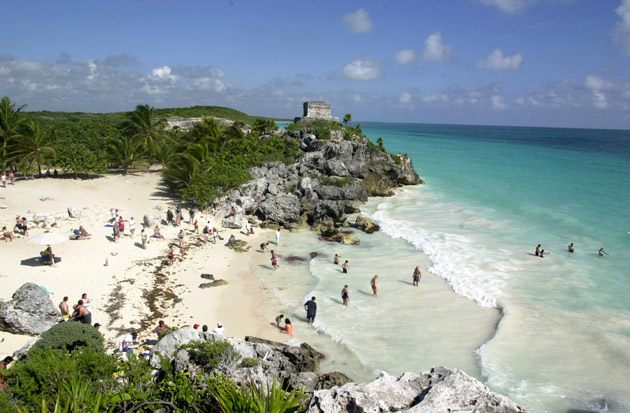 The UK first introduced hotel quarantine for all arrivals from "high-risk" destinations back in February.
Travellers from red list countries must pay £2,285 for an 11-night/10-day stay – though rates for additional people sharing a room are considerably lower.
For a single traveller the price works out at £207.72 per night.
Heavy penalties apply to anyone who misrepresents where they have visited or who fails to go into hotel quarantine when they should.
These are the key questions and answers.
Recommended Final UK troops pulled out of Kabul
What are the UK restrictions?
Covid testing is currently mandatory for all overseas arrivals except for those from Ireland. Fully vaccinated travellers arriving from countries on the government's green or amber lists must complete a PCR test within two days of entering the UK.
Unvaccinated arrivals from amber countries must do a further test on day eight, as well as completing 10 days of self-isolation. Passengers in England have the option to take a further test on day five under the government's 'test to release' scheme, thereby escaping home quarantine early if the result is negative.
The government has imposed mandatory hotel quarantine for arrivals from the countries on its "red list" – currently numbering 60. The aim is to limit the spread of new variants of coronavirus.
Only British and Irish citizens, as well as third-country nationals with residential rights in the UK, can enter the UK from red list destinations.
Which airports and ports are open to red list arrivals?
Anyone required to stay in a quarantine hotel can arrive in England at Heathrow, Gatwick, London City, Bristol or Birmingham airports, or the private aviation airfields at Farnborough in Hampshire and Biggin Hill in London.
Notable omissions from the list include Manchester airport, currently the second-busiest in the UK after Heathrow; the port of Dover; the Eurotunnel terminal in Folkestone; and the Eurostar hub at London St Pancras International.
The government says: "Carriers will not be permitted to carry anyone who has been in a red list country in the previous 10 days to any other port of entry other than those specified."
Residents and visitors to Wales must arrive at one of the designated English airports and quarantine there before continuing their journey.
Travellers arriving in Northern Ireland are able to arrive at Belfast International and City airports, or any military airfield or port.
How does hotel quarantine work?
Travellers self-identify in advance. Everyone arriving from red list countries must pre-book a room through a dedicated online portal, at a cost of £2,285 per solo traveller.
The price includes transport from the airport to the "government-approved facility" (the hotel), three meals a day, security and testing. During their stay, "quarantinees" will undergo two Covid tests: one on day two, the next on day eight. Those who test positive are likely to have their stay extended, unless hospital treatment is needed.
The cost for additional people in the same room is significantly less than the solo rate. A second adult pays £1,430, and a child aged 5-12 costs an additional £325. Over 12s are counted as adults; under fives are free.
Every arriving traveller must complete a passenger locator form in which they reveal to UK Border Force the countries they have been to in the past 10 days.
Failure to disclose relevant travel history could lead to a prison sentence of 10 years under the Forgery and Counterfeiting Act 1981. The precise offence is "to use an instrument which is … false, with the intention of inducing somebody to accept it as genuine, and by reason of so accepting it to do or not to do some act".
UK border officials are inspecting passports for evidence and asking to see boarding passes and travel itineraries.
Passengers obliged to undergo hotel quarantine are escorted through the airport, including a health-screening process, and taken to a nearby hotel.
The hotels are exclusively for the use of quarantining travellers.
How do I book a room for hotel quarantine?
Travellers arriving from red list countries must use a dedicated online portal to book their hotel stays.
What if I can't pay?
"For those facing significant financial hardship as a result of this charge, there will be an opportunity to apply for a deferred repayment plan when booking," the government says.
"This is only available for individuals who already receive income-related benefits, and you will be required to pay back your debt to the government in 12 monthly instalments."
Scottish residents who are unable to pay can apply to have their repayment plan paid off by the Scottish government.
Plans to charge appear to contravene Article 40 of the World Health Organisation (WHO) International Health Regulations, which says: "No charge shall be made [for] appropriate isolation or quarantine requirements of travellers."
Can I get a drink?
Yes, at normal room-service prices. Deliveries of alcohol to the hotel will also be possible.
I've had both vaccinations. Can I skip hotel quarantine?
No. Your Covid-19 status is of no relevance as far as the hotel quarantine system is concerned. So whether you have had the jab or have successfully recovered from the virus, you will still need to follow the rules.
Can the red list be expanded?
Yes, countries have been added to and removed from the list at the government's regular three-weekly travel traffic light updates.
Are there enough hotels to go around?
Currently, yes. The UK government has contracted 4,600 rooms in 16 hotels, with more available if necessary.
Heathrow, the main access point to the UK, is surrounded by hotels, with plenty of capacity due to the continuing reduction in travel.
Can I choose my hotel?
No, and neither are you able to choose your room or upgrade once you get there. Some of them are really quite small, as I found on my one-night stay.
What will I do all day?
Visits to people in quarantine are allowed only if they are providing emergency assistance, personal care, veterinary services (though only guide dogs are allowed) or "certain critical public services".
Two weeks with few distractions could provide the ideal opportunity to learn a new language.
An opportunity for quarantinees to exercise (or smoke) is not guaranteed. Exercise is possible "only with special permission from hotel staff or security," travellers are told, and warned: "This is not guaranteed."
The Australian government advises its quarantine detainees: "Bring physical books or download movies ahead of time in case there are issues with the hotel wifi."
When might hotel quarantine end?
That is unclear, and the government will not give a date.
World news in pictures Show all 50 1 /50 World news in pictures World news in pictures 31 August 2021 Women hold umbrellas to cover from rain as they wait to receive a dose of COVISHIELD vaccine in Kolkata, India Reuters World news in pictures 30 August 2021 Taliban fighters investigate a damaged car after multiple rockets were fired in Kabul AFP/Getty World news in pictures 29 August 2021 A Taliban fighter stands guard as Talibans acting Higher Education Minister Abdul Baqi Haqqani (not pictured) addresses a gathering during a consultative meeting on Taliban's general higher education policies at the Loya Jirga Hall in Kabu AFP/Getty World news in pictures 28 August 2021 A child that was evacuated from Afghanistan looks on at the U.S. airbase in Ramstein, Germany Reuters World news in pictures 27 August 2021 Soldiers take a selfie before a military parade in Chisinau, Moldova EPA World news in pictures 26 August 2021 Smoke rises from the site of a suspected suicide bombing outside Kabul airport in Afghanistan AP World news in pictures 25 August 2021 Egypt's Ibrahim Elhusseiny Hamadtou in action during his Men's Singles Class 6 Group E Table Tennis match at the Tokyo 2020 Paralympic Games PA World news in pictures 24 August 2021 People take pictures of fireworks outside the stadium during the opening ceremony of the 2020 Paralympic Games in Tokyo Reuters World news in pictures 23 August 2021 Staff members spraying disinfectant at a school ahead of the new semester in Bozhou, China's eastern Anhui province AFP/Getty World news in pictures 22 August 2021 A Taliban fighter stands guard at a checkpoint in the Wazir Akbar Khan area in the city of Kabul, Afghanistan AP World news in pictures 21 August 2021 Mexican firefighters known as "Topos" work in the early morning hours in a search and rescue mission, amid the rubble from last week's 7.2 magnitude earthquake, in Les Cayes, Haiti AP World news in pictures 20 August 2021 Bangladeshi vendor sells a religious item during a Muharram event at the premises of Hussaini Dalan in Dhaka, Bangladesh EPA World news in pictures 19 August 2021 Law enforcement officers with rifles take position near the US Capitol building in Washington DC as police investigate a possible explosive device in a truck near the heart of American government AP World news in pictures 18 August 2021 A Taliban fighter patrols in Wazir Akbar Khan in the city of Kabul, Afghanistan AP World news in pictures 17 August 2021 Art students paint messages of solidarity with people at risk in Afghanistan's crisis outside an art school in Mumbai AFP/Getty World news in pictures 16 August 2021 Afghan people climb atop a plane as they wait at the Kabul airport AFP via Getty World news in pictures 15 August 2021 Taliban fighters patrol inside the city of Kandahar province in southwest Afghanistan AP World news in pictures 14 August 2021 A collapsed building is seen in Les Cayes, Haiti following a 7.2 magnitude earthquake which left at least 29 people dead Reuters World news in pictures 13 August 2021 Perseids are seen next to Milky Way during the annual Perseid meteor shower at Tres Mares peak, in Cantabria, northern Spain EPA World news in pictures 12 August 2021 A woman sits along the broken steps of a partially-collapsed building destroyed by bombardment during the May 2021 conflict between Hamas and Israel, in Gaza City AFP via Getty World news in pictures 11 August 2021 People stranded at the Pakistani-Afghan border wait for its reopening after it was closed by the Talibans, who have taken over the control of the Afghan side of the border at Chaman, Pakistan EPA World news in pictures 10 August 2021 Supporters cheer outside French football club Paris Saint-Germain's Parc des Princes stadium in Paris after Argentinian football player Lionel Messi landed in Le Bourget airport to sign for the club AFP/Getty World news in pictures 9 August 2021 People perform a folk dance to traditional music as they celebrate the International Day of the World's Indigenous Peoples in Mumbai, India EPA World news in pictures 8 August 2021 Thank you messages is displayed inside the stadium during the Olympic closing ceremony in Tokyo Reuters World news in pictures 7 August 2021 Pro-democracy protesters clash with police during a demonstration demanding Thai prime minister Prayut Chan-Ochas and King Maha Vajiralongkorn be held accountable for the governments failure to contain the Covid-19 outbreak, in Bangkok AFP via Getty World news in pictures 6 August 2021 Members of local NPO release paper lanterns on Motoyasu River in front of beside the Hiroshima Prefectural Industrial Promotion Hall, as it was known before 1945, and now called the Atomic Bomb Dome, as the city marks the 76th anniversary of the world's first atomic bomb attack AFP/Getty World news in pictures 5 August 2021 The Men's Decathletes pose for a photo following their competition on day thirteen of the Tokyo 2020 Olympic Games at Olympic Stadium in Tokyo, Japan Getty World news in pictures 4 August 2021 Maronite clergymen pray near damaged grain silos at the port of Lebanon's capital on the first anniversary of the blast that ravaged the port and the city AFP/Getty World news in pictures 3 August 2021 An underwater view shows France's Charlotte and Laura Tremble during the women's duet technical routine artistic swimming event at the Tokyo 2020 Olympic Games AFP/Getty World news in pictures 2 August 2021 Germany compete in the women's team pursuit qualifying event at the Tokyo 2020 Olympic Games at Izu Velodrome AFP/Getty World news in pictures 1 August 2021 enezuela's Yulimar Rojas competes in the women's triple jump final during the Tokyo 2020 Olympic Games. Rojas took gold and broke the Olympic and World Record in the process AFP/Getty World news in pictures 31 July 2021 Elaine Thompson-Herah celebrates as she crosses the finish line to win the gold medal ahead of Jamaican teammate Shelly-Ann Fraser-Pryce in the women's 100m final at the Tokyo Olympic Games Reuters World news in pictures 30 July 2021 Athletes compete during the men's 3000m Steeplechase at the Tokyo Olympics Reuters World news in pictures 29 July 2021 Athletes compete in the BMX men's Olympic quarter-finals run at the Ariake Urban Sports Park in Tokyo AFP/Getty World news in pictures 28 July 2021 A picture taken with a drone shows researchers from the Faculty of Veterinary Medicine of Utrecht University investigating a dead fin whale found in the harbor of Terneuzen, The Netherlands EPA World news in pictures 27 July 2021 People wearing face masks to protect against the spread of the coronavirus walk past extra papers reporting on Japanese gold medalists at Tokyo Olympics AP World news in pictures 26 July 2021 The ball hits Thailand's Orawan Paranang's face as she competes against Japan's Kasumi Ishikawa during her women's singles round 3 table tennis match at the Tokyo Metropolitan Gymnasium during the Tokyo 2020 Olympic Games AFP via Getty Images World news in pictures 25 July 2021 A woman walks in the rubble after flooding due to heavy rains in Dinant, Belgium, a week after more than 30 people were killed in floods in the country EPA World news in pictures 24 July 2021 A firefighter uses a drip torch to light a backfire in an effort to stop the spread of the Dixie fire in Prattville, California AFP/Getty World news in pictures 23 July 2021 An overview shows Japan's tennis player Naomi Osaka lighting the flame of hope in the Olympic Cauldron during the opening ceremony of the Tokyo 2020 Olympic Games, at the Olympic Stadium, in Tokyo AFP via Getty World news in pictures 22 July 2021 People wade through a flooded street following a heavy rain in Zhengzhou, in China's Henan province AFP/Getty World news in pictures 21 July 2021 People celebrate in Brisbane, Australia, following an announcement by the International Olympic Committee that the city was picked to host the 2032 Olympics AAP Image via AP World news in pictures 20 July 2021 Muslims attending the Eid Al-Adha prayer at Skenderbej Square in Tirana AFP/Getty World news in pictures 19 July 2021 Muslim pilgrims gather on Mount Mercy on the plains of Arafat during the annual Haj pilgrimage outside the holy city of Mecca, Saudi Arabia Reuters World news in pictures 18 July 2021 People protest against the Tokyo 2020 Olympic Games in Tokyo, Japan Reuters World news in pictures 17 July 2021 A long exposure photograph shows Muslim pilgrims circumambulating around the Kaaba, Islam's holiest shrine, at the Grand mosque in the holy Saudi city of Mecca during the annual hajj pilgrimage AFP/Getty World news in pictures 16 July 2021 A van crushed by the torrents is pressed against a tree after the floods caused major damage in Bad Neuenahr-Ahrweiler, western Germany AFP/Getty World news in pictures 15 July 2021 A staff member sits at an interactive digital installation "Fire / Forest and Spiral of Resonating Lamps in the Forest" during a media preview of "teamLab: A Forest Where Gods Live" at the lobby of Mifuneyama Rakuen Hotel, Takeo Hot Springs in Saga prefecture AFP/Getty World news in pictures 14 July 2021 Pupils of the Special Military School of Saint-Cyr march during the annual Bastille Day military parade on the Champs-Elysees avenue in Paris AFP/Getty World news in pictures 13 July 2021 Rescuers look for bodies after a catastrophic blaze erupted Monday at a coronavirus hospital ward in the al-Hussein Teaching Hospital, in Nasiriyah, Iraq AP
A brief history of quarantine
The home secretary previously told parliament: "From January 2020, the government have had a comprehensive strategy for public health measures at the border."
Early in 2020, the UK imposed quarantine measures aimed at preventing the spread of the virus from known hotspots including China, Iran and northern Italy. On 13 March 2020 these measures ended.
The government said there was no point in continuing to insist on self-isolation because coronavirus was widespread in the UK.
Two days later, Australia's prime minister, Scott Morrison, imposed two weeks of self-isolation on arrivals from all countries. By the end of March, the law had been strengthened to make "hotel quarantine" mandatory. The measure was announced on 27 March and took effect the next day.
Three months later, on 8 June 2020, the UK government made a U-turn, going from no quarantine to quarantine from everywhere, with 14 days of self-isolation required.
A month after that, the concept of "travel corridors" took effect, allowing journeys from most European countries without self-isolation. But by late July Spain had lost exemption, and in the months following most popular destinations also had quarantine-free status removed.
In December 2020, the time required for quarantine was reduced from 14 to 10 days, and in England "test to release" was brought in – allowing self-isolation to be halved for those who received a negative test result on day five.
On 18 January 2021, all quarantine exemptions were removed.
On 15 February, hotel quarantine was introduced for all arrivals from "high risk" (later classed as "red list") destinations – along with extended testing requirements.
On 12 August, the costs of hotel quarantine increased significantly, from an initial rate of £1,750 per solo traveller to the current rate of £2,285.